By Alexandria Hulslander, Intern, Worlds of Words
Worlds of Words in the University of Arizona College of Education celebrates International Children's Book Day with a special exhibit of international honor books for children and adolescents. Lithuania, this year's host country for ICBD, provides the theme, "Books Help Us to Slow Down." ICBD has been celebrated for over half a century on the birthday of Hans Christian Anderson, April 2. WOW's display is free and open to the public from March 25 to April 6.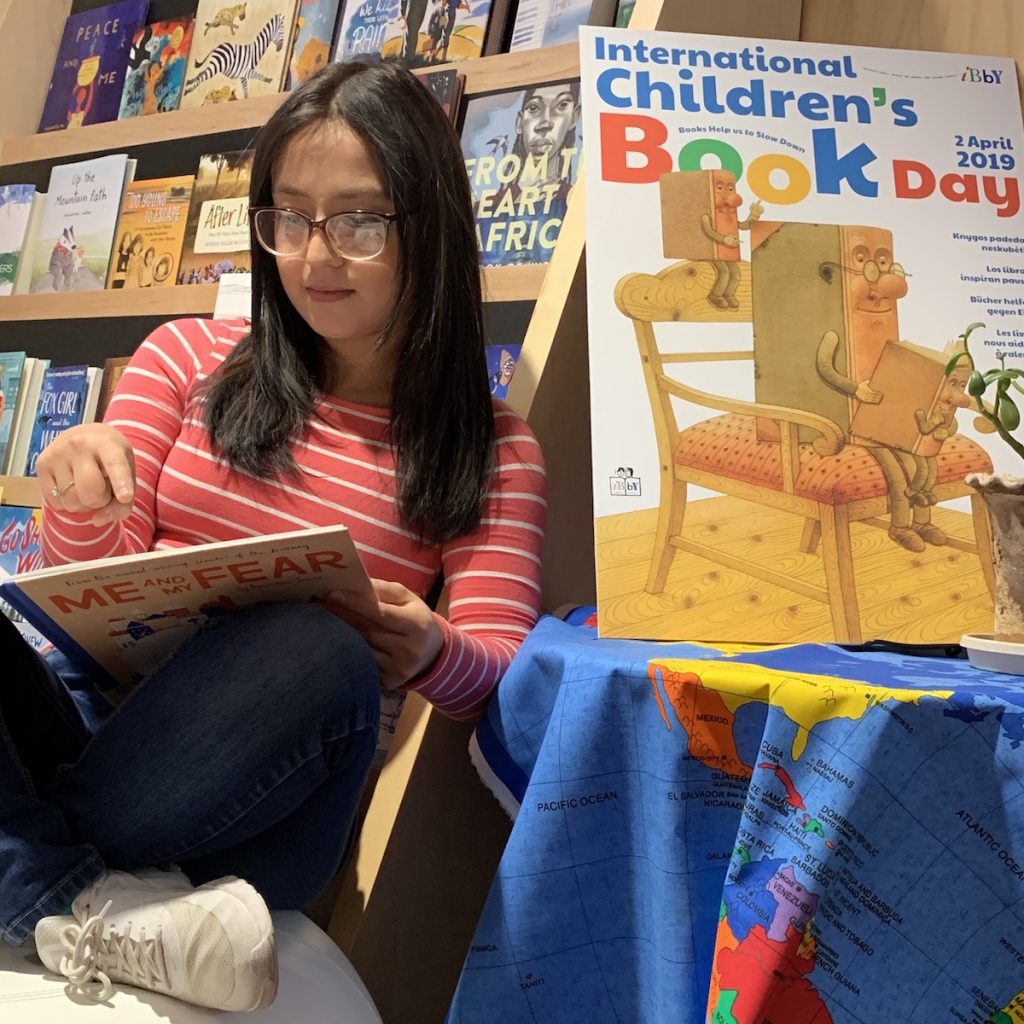 "In the exhibit, we offer several techniques that readers can use to slow down and linger while reading books," says Rebecca Ballenger, Coordinator of Outreach and Collections for WOW. "Considering how many of us rush through readings or read on deadline, we look forward to the chance to slow down with a good book–especially one that expands global understandings."
Books provide an opportunity to break from the busyness of the technology-driven world by creating a peaceful environment and allowing for mindfulness. UofA communities, including classes and other organizations, are encouraged to come as a way to intentionally slow down their reading to increase understanding and pleasure. The larger community is also welcome to come in during the work day or on one of two Saturdays to engage in slow reading.
Books on display from two special collections help create this mindful environment. The first set are the 2018 Outstanding International Books from the United States Board on Books for Young People (USBBY). USBBY serves as the U.S. national section of the International Board on Books for Young People (IBBY). The second set of international books are the books selected by IBBY member countries that represent the best writing and illustration from each member country in 2018 and are in the original language of publication.
"This collection of books focuses on world languages and provides us with an opportunity to see the difference of what's trending in writing and illustration across countries. We're helping to create an international audience for these books by setting them out on display for everyone to view and interact with," says Kathy Short, WOW Director and professor of Teaching, Learning and Sociocultural Studies.
This display of international books will be available free to the public to view from March 25 to April 6 at Worlds of Words in the College of Education, Room 453. It features USBBY and IBBY books celebrating International Children's Book Day along with suggestions for mindful activities to do while looking through these books. Visitors can come any time for a self-guided tour or can schedule a tour online.
array(12) {
  ["_edit_lock"]=>
  array(1) {
    [0]=>
    string(14) "1579293916:264"
  }
  ["_edit_last"]=>
  array(1) {
    [0]=>
    string(3) "264"
  }
  ["_thumbnail_id"]=>
  array(1) {
    [0]=>
    string(5) "29982"
  }
  ["_yoast_wpseo_opengraph-image"]=>
  array(1) {
    [0]=>
    string(85) "https://wowlit.org/wp-content/media/Carolina-Hoyos-ICBD-2019-Square-by-AG-medium.jpeg"
  }
  ["_yoast_wpseo_opengraph-image-id"]=>
  array(1) {
    [0]=>
    string(5) "36134"
  }
  ["_yoast_wpseo_twitter-image"]=>
  array(1) {
    [0]=>
    string(85) "https://wowlit.org/wp-content/media/Carolina-Hoyos-ICBD-2019-Square-by-AG-medium.jpeg"
  }
  ["_yoast_wpseo_twitter-image-id"]=>
  array(1) {
    [0]=>
    string(5) "36134"
  }
  ["_yoast_wpseo_focuskw"]=>
  array(1) {
    [0]=>
    string(35) "International Children's Book Day"
  }
  ["_yoast_wpseo_metadesc"]=>
  array(1) {
    [0]=>
    string(155) "Worlds of Words in the University of Arizona College of Education celebrates International Children's Book Day with exhibit of international honor books."
  }
  ["_yoast_wpseo_linkdex"]=>
  array(1) {
    [0]=>
    string(2) "79"
  }
  ["_yoast_wpseo_content_score"]=>
  array(1) {
    [0]=>
    string(2) "30"
  }
  ["_yoast_wpseo_primary_category"]=>
  array(1) {
    [0]=>
    string(4) "3549"
  }
}