Marilyn Carpenter, Professor Emeritus, Eastern Washington University, Spokane, WA
Tony Johnston is a gifted author for children and young adults. She is known for her 120 plus picturebooks; however, her poetry and novels also receive positive reviews. Recently, I enjoyed a conversation with Tony about her newest novel, Beast Rider, experiences that inform her writing and her writing process.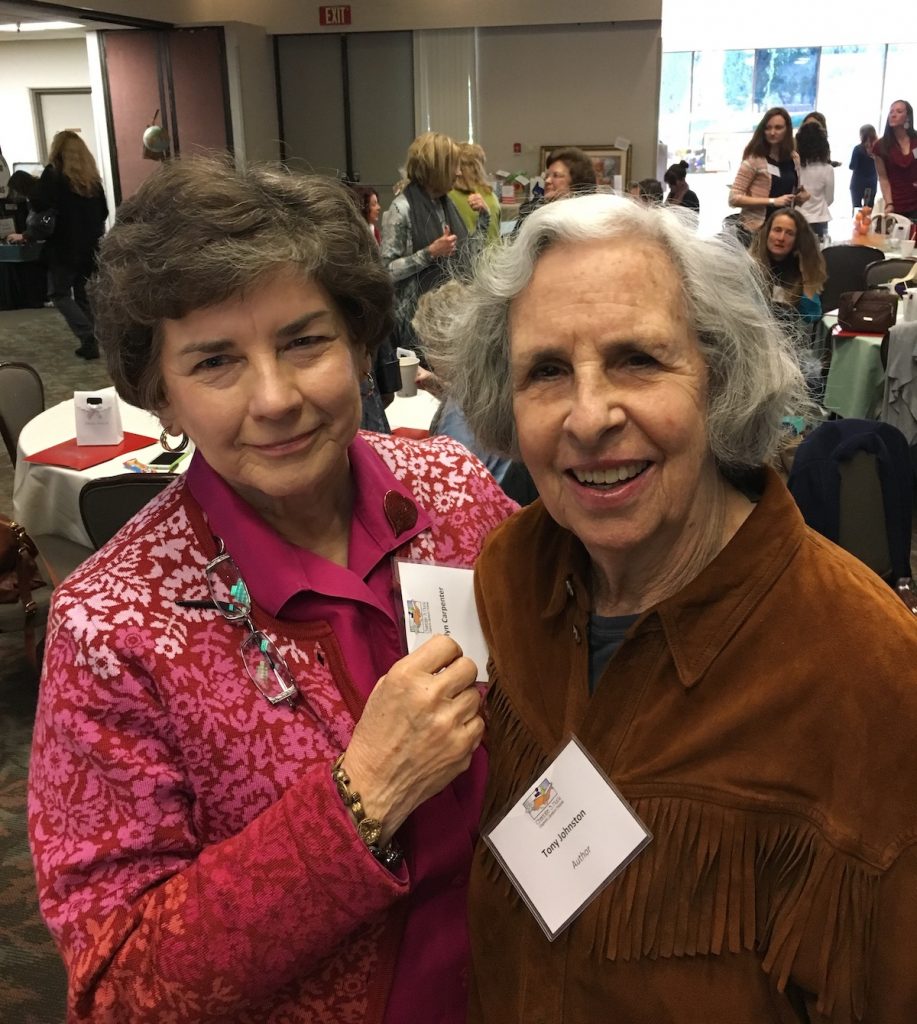 Heart Work
Tony's writing is distinguished by what she calls "heart work." Her books touch the heart with memorable stories that can be humorous and warm, serious and challenging while at the same time touching the heart. As Jane Yolen writes in Touch Magic, "Story is one of the most serious intruders into the heart."
Several of Tony's picturebooks that I read many years ago, still reside in my heart, giving me joy and insights about how to navigate my world. I am thinking about Angel City. It is a story of an old man who finds a baby in a dumpster, "perfect and new. Swaddled in dawn." Old man Joseph goes on to raise that baby, Juan, who is of Mexican heritage. Joesph states, "He needs to know Mexican things. So old man Joseph consults his neighbors about those mysteries." Such stories touch the heart but at the same time they do not dodge difficult realities. In Angel City, a gang shooting causes Juan great pain when his friend is killed. In a conversation with Tony, she remarks that she thinks it was Lloyd Bloom, the illustrator of her book Yonder, who said to her, "words from the heart, enter the heart." She continues, "I feel as a writer that you've got to put your emotions out there and share them with the reader." Tony integrates those emotions into her stories to capture the reader's attention and care deeply about her characters.
Beast Rider

In Beast Rider, Tony continues her "heart work. The clear voice of Manuel narrates his powerful story of how, as a twelve year-old, he left his family in Oaxaca, Mexico to join his older brother, Toño, who has gone North to Los Angeles. Manuel travels atop the freight trains known as the Beast, and has heart wrenching experiences. … The Beast is a network of freight trains that move from southern Mexico to the U.S. border. La Bestia is a deadly way to travel. Getting on and staying on are hard in themselves. Sometimes a rider goes to sleep and falls from the train, to be maimed or killed. … Gangs swarm the tops of train cars looking for victims" (from the Authors' Note).
This book is right out of recent headlines. It is the story of how desperate immigrants from Mexico and Central America risk their lives to reach the United States. There is much love and joy as well as pain and sorrow in this book. It is also packed with Tony's wisdom. Tony tells me that Beast Rider is about a situation that needs immediate solutions. She elaborates, "Our government doesn't understand the pain and loss that these immigrants are going through and what it does to their families. Things have only gotten worse since the book came out. People are put in cages and families are separated. Just imagine the trauma. I think it is criminal."
The first inspiration for Beast Rider came when Tony read a series of articles in the Los Angeles Times by Sonia Nazario. Those articles were later awarded Pulitzer Prizes for both reporting and photographs. Later, Nazario turned her articles into a book, Enrique's Journey. That account of a young boy traveling on the Beast to the U.S. inspired Tony to learn more. She discovered that there was not much written about the topic. However, in conversations with her best friend and co-author, Maria Elena Fontanot de Rhoads, who lives in Mexico, she gathered more information. Maria Elena is a psychotherapist and contributed her knowledge and expertise to the story of Beast Rider, especially the psychological influences on the character of Manuel. Also, in Tony's acknowledgments for the book, she thanks Duncan Tonatiuh, author and illustrator of Pancho Rabbit and the Coyote for sharing his deep knowledge of the Beast.
Tony first wrote the ending of Beast Rider. "I started this book with the ending, because I had it all in my head, how I wanted to do it. Every book is different, sometimes I start in the middle. But with writing the ending first I had to think, how do I get this boy back home? In so many of the books I read to prepare for this book, few people came back home except for one person who was mentioned in a newspaper article."
I ask Tony how long she worked on Beast Rider. She says, "It took me six years. It would wake me up in the night. It would not relent. Then there were countless rewrites. It was ongoing, adding and revising. I consider myself much more a rewriter than a writer. Another example of revisions is my picture book, Yonder, that is just 32 pages, I fussed over that book for nine years."
I treasure that Beast Rider does not end when Manuel makes it to the U.S. After he heals from a terrible beating from a gang, Manuel makes it to the border riding atop the Beast. The journey continues across the Rio Grande with the help of a coyote, whom his brother pays. His brother meets him and there is a dear reunion. Manuel states upon reuniting with his brother, "When he spots me a glow lights his face. We rush for each other and embrace, and for a long time we stay like this, holding each other."
In Los Angeles, Manuel lives with Toño as he struggles to find a place for himself and to recover from the trauma of his journey. However, he does not feel part of that place. He reflects to himself, "Here in this Los Angeles, impossibly enormous place, I am an island." However, a new relationship opens to Manuel. He and a solemn neighbor, Mr. James Ito, begin to share stories. Manuel shares with the reader that, "Like tears held in for a very long time, out the words come. Pouring pouring. Mine is an ugly tale, apart from the few saints who float in and out." That telling is healing when he realizes "how much goodness has been woven into my story." Mr. Ito becomes Manuel's guide. Mr. Ito's patient, quiet listening encourages Manuel to consider his future.
I ask Tony how Manuel's faith sustains him. She responds, "One of the things that the people out in the countryside always seem to have is their faith. It is all tied to Manuel's grandmother who keeps that faith alive in their family." Throughout his harrowing journey, Manuel benefits from his memory of his grandmother's guidance. Tony discloses, "When he finally is reunited with his brother the first thing they do is go to the church. I think that was important to bring in. That is what got him through–believing. Manuel always gives thanks for even the smallest things. Of course, there are angels throughout the book. From his father and his grandmother, then Gabriel who helps him on the train, Señor Santos who gives him a place to live and a job, Serrafina who nurses him when he is beaten by the gang, Mr. James Ito, and a lot of other people who help him along the way, even though terrible things happen. There are wonderful people and to me they are angels."
On the first page of the story, Tony weaves a theme about the importance of corn in the life of Manuel's family. Manuel states, "The milpita, little corn plot, which is our life." Later it reads, "Papa says we are people of the corn." I ask Tony about how she uses references to corn in the story. She tells me about a poster she saw in an Oaxaca restaurant. The poster reads, "without corn there is no country." Tony agrees, "Corn is the heart and foundation of Mexico. It is what Mexico is all about." As Manuel comes to understand the value of his heritage and his life in Mexico he arrives on a single corn plant growing out of the L.A. sidewalk. Tony feels that the incident with the corn plant becomes magical. "Manuel lies down and becomes part of the circle around the corn plant. I felt like it was something from another world. It is the final thing that helps Manuel decide the path to take."
That corn plant growing out of the sidewalk is one of many magical elements in the book. Upon seeing it, Manuel is struck with wonder. "Suddenly I sense a great stillness. Like an angel passing." Another time when he visits the corn to bring it water, he realizes, "… we two are the same, struggling to survive in this place of cement where beauty is hiding hiding. Struggling where we cannot truly live, where we do not truly belong."
That incident prompts me to ask Tony, "What is magic to you?" She replies, "I don't think about it when I am writing, it just happens. I guess that's part of the magic, it just happens as part of every day. When I am writing about magic it is not your everyday happening. It is not about magic shows and clowns. Magic comes from a positive place. I do believe that there is a lot going on that we don't understand and probably never will. But every once in a while there is a flash, a shine of something. If you are awake and looking you notice. Once when I was walking with my sister on my ranch, we saw a cougar leap from the dirt road up into a tree. It was one of these moments it wasn't exactly magical but it was some kind of gift, because those creatures are elusive. Keep your eyes open, keep your heart open to those gifts." Tony weaves that incident with the cougar into one of her newest books, Puma Dreams.
At the end of the Beast Rider, Tony brings together the themes of family, the corn that nourishes them and the faith that guides them. Manuel realizes, "I come from People of Corn. I will return to my family and be happy again with the small things of life. I will do what Flores people have always done. Like my father and grandfather and all those before them I will walk behind an ox and plow the dirt and the dust will lift and shawl down upon me like a prayer, the dust, the very breath of earth. I will tend our milpita and the maíz that it gives. I will be a tiller, a planter, a keeper of the land." These words demonstrate how Tony's writing is like one long poem. Her talent with words evokes images like the shawl in the previous quote that wrap the reader in her love of the character and the powerful story. The last words in the book about Manuel's homecoming is a celebration and culmination of one of the themes in the book with that joyful moment of Manuel's returning to his family.
Experiences in Mexico
Tony's knowledge about Mexico comes from the 15 years she and her family lived there. Her three daughters were born there. According to Tony, the family "went all over the place." They visited many villages. Tony recalls, "we discovered that each village had different clothing. So we decided to start collecting faja (sashes) because they are small and don't take up much space like bigger items such as a poncho. So we saw a Mexico that other people didn't see. Now most of those places are modernized and people don't wear their indigenous clothes anymore. That was in 1969 to 1985. We collected about 2000 sashes as well as other pieces."
Recently, Tony gave the whole collection of sashes to the Textile Museum in Oaxaca. Many of Tony's family and friends went to the celebration at the museum for the donation. The celebration continued for a week. At that time, she also visited her best friend and co-author, Maria Elena Fontanot de Rhoads.
How Tony Captures Her Ideas
Some time ago, Tony and I were enjoying lunch together at a restaurant. Something I said gave her an idea for a book. Not wanting to lose that inspiration, she grabbed a napkin and scribbled her idea. But the napkin was small and her inspiration needed more space, so she finished the idea by writing on her arm!
She has also written two of her novels on sticky notes. She told me she did that with her novel, Any Small Goodness, and also for much of Beast Rider. She used to walk a lot and kept sticky notes in her back pocket with a four-inch pencil to record ideas as she walked. "When I start walking, my mind goes up into the trees and sky and then I start getting ideas."
Tony's Background and Experiences
Tony grew up in Southern California and graduated from Stanford University with a bachelor's in History and a master's in Education. She taught elementary school and later worked for the famous editor at Harper and Row, Ursula Nordstrom, in the 1960s. Tony comments on her time working with Ursula, "She was brilliant and pretty terrifying. I learned more about literature from her than in most other situations that had to do with literature. She taught me that if you pay attention you can soak up a lot of stuff."
The poet, Myra Cohn Livingston, also made an impact on Tony's writing. Livingston held a master's seminar in poetry that Tony attended weekly for ten years. When I lived in California, I got to know Tony because she attended a once-a-month meeting at my house. Participants would borrow review copies I received to read and then share and discuss with the group. That group was made up of other authors, librarians, teachers and parents. We called ourselves The Readers. For over 20 years, we built a trusted group of critical readers and reviewers. It was impressive to hear Tony's thoughtful insights about the books. During that time, she worked part-time at a bookstore that featured books for teens and children. In addition, Tony belongs to a group of women authors, The Lunch Bunch, who meet often to share and discuss their writing. These experiences demonstrate Tony's professionalism and devotion to her craft.
Other Books by Tony
Tony has written a number of other books that enrich and inform readers' understandings of the Mexican culture. Don't miss: Day of the Dead, P is for Pinata: A Mexico Alphabet, My Mexico, My Abuelita and The Tale of Rabbit and Coyote. Tony writes on a range of theme as demonstrated by her books Alice Nizzy Nazzy, Amber on the Mountain, An Old Shell: Poems of the Galapagos, The Barn Owls, Big Foot Cinderella, Laugh-Out-Loud Baby, Pages of Music, The Quilt Story, Sequoia, The Wagon, Whale Song and Winter is Coming.
These books and others by Tony demonstrate her gift of creating stories that touch the heart with powerful and moving evocations about characters and themes that matter. As she writes in Beast Rider, "It takes a lifetime to create beauty. But one must keep working at it. To add beauty to the world–goodness too–these things are of importance." Tony's words and her story are evidence of how, when a talented writer works at her craft, she can add beauty and goodness to the world of the reader. I read Beast Rider three times. Each time I make new discoveries of that the beauty and goodness in the story. I heartily recommend it to you.
Authors Corner is a periodic profile featured on our blog where authors discuss their writing process and the importance of school visits. Worlds of Words frequently hosts these authors for events in the collection. To find out when we are hosting an author, check out our events page. Journey through Worlds of Words during our open reading hours: Monday-Friday, 9 a.m. to 5 p.m. and Saturday, 9 a.m. to 1 p.m.
array(8) {
  ["_edit_lock"]=>
  array(1) {
    [0]=>
    string(14) "1604369685:264"
  }
  ["_edit_last"]=>
  array(1) {
    [0]=>
    string(1) "2"
  }
  ["_thumbnail_id"]=>
  array(1) {
    [0]=>
    string(5) "29490"
  }
  ["_yoast_wpseo_content_score"]=>
  array(1) {
    [0]=>
    string(2) "30"
  }
  ["_yoast_wpseo_primary_category"]=>
  array(1) {
    [0]=>
    string(4) "3432"
  }
  ["_yoast_wpseo_focuskw"]=>
  array(1) {
    [0]=>
    string(13) "Tony Johnston"
  }
  ["_yoast_wpseo_metadesc"]=>
  array(1) {
    [0]=>
    string(155) "Tony Johnston shares her heart work, writing process and life experiences in an interview with Marilyn Carpenter for Authors' Corner featuring Beast Rider."
  }
  ["_yoast_wpseo_linkdex"]=>
  array(1) {
    [0]=>
    string(2) "85"
  }
}