By Angeline P. Hoffman, White Mountain Apache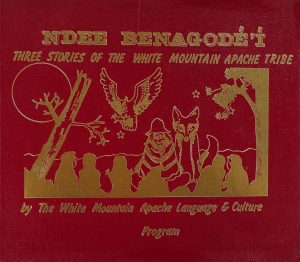 Culturally authentic Indigenous American children's literature is composed of traditional stories that consist of myths, legends and folktales in the oral storytelling traditions of a given people. This literature also includes contemporary stories and poetry. An affirmation of Indigenous children's literature is noted by Dr. Debbie Reese (2007, p. 245):
Through stories, people pass their religious beliefs, customs, history, lifestyle, language, values, and the places they hold sacred from one generation to the next. As such, stories and their telling are more than simple entertainment. They matter in significant ways – to the well-being of the communities from which they originate.
In my elementary experience as a young female Apache fifth grader, I remember an assignment to "Write About Your Culture." My culture is Apache, and in that whole classroom there was only one book focused on the Apache people. In spite of limited resources, I always remember this event because I was inspired to write about my Apache people. Until fifth grade, it seemed like no other teacher was interested in my culture as the curriculum was geared towards mainstream standards. This story brings back the memory of how important one single book was for me. But even more than that, when I became a certified teacher and taught fifth graders, I brought in Indigenous American children's literature into my reading curriculum. The students' responses to literature that was culturally relevant for them indicated that they saw themselves within the books, and this increased their desire to read more books about Indigenous people. Based on this knowledge, I continue to add more Indigenous American children's literature into my curriculum.
I offer the following books, which I continue to utilize in my teaching, discovered through research and my on-going search for culturally authentic Indigenous American children's literature. The first set of books discovered during my first years of teaching emphasize two themes: 1) Storytelling focused on relationships and 2) Storytelling focused on ethics. The later set, more recently curated, considers the theme of Storytelling focused on relationships.
Discoveries from my Early Teaching Years
Storytelling to Introduce and Reinforce Relationships
It is important for children to know who they are and where they come from, in order to understand Apache or other Nations' perspectives on our relationships with one another, other people, the earth and the universe. Cordova (2007), an Apache philosopher, explains how story narratives develop a sense of the relationships in children to which they should aspire and so instill a sense of purpose and provide guidance along life's way.
Helen Crocker and Mary V. Riley share legends and stories told by older Apache men and women in their book Ndee Benagodé'í: Three Stories of the White Mountain Apache Tribe (1981). Karen Adley and Michael Lacapa wrote these stories featuring relationships with the little animals, that were developed and published by the White Mountain Apache Johnson O'Malley Language and Culture Program. Other types of stories told by Apache elders introduce relationships that include; proverbs (sayings and advice stories); stories about the little animals (the Fox, Coyote, Turkey, Snake, and the legend of the Elk); the Crown Dancers (deities); and religious and philosophical Apache stories. Each Apache clan is responsible for sharing their legends to be carried on by children of the clan.
The late Apache/Hopi storyteller, Michael Lacapa, in his book Antelope Woman (1992, p. 12), offers another example of how a character reflects on the interdependence between humans, other creatures of the earth and the earth in this way:
As they walked, the young man told the woman, "We must even honor the water," For it flows down from the mountains to nourish the plants. It nourishes our brothers, the Animals. It also nourished us, the people. We must respect all things great and small.
In Kinaaldá (1993), Monty Roessel tells the story of a special ceremony for a Navajo girl who is going through the change from a girl to a woman. The Navajo people honor their daughters by marking this transformation through this important event in their way of life.
Storytelling to Explore Ethics and Teaching
Storytelling can also be utilized by the book characters as a way to convey particular values or ethics as suggested through specific phrases.
Bidii (2000), by Marjorie Thomas, demonstrates how ethics are identified through the learning experiences of children, exemplified by the trials and errors of everyday life. The main character, Bidii, a Navajo boy, is mischievous and learns a lesson from his misbehavior. Readers see themselves through this character and are able to vicariously learn the lesson. So, during the storytelling process, children explore a lesson through a life experience created by the storyteller.
Michael Lacapa's Less Than Half, More Than Whole (1994) depicts the main character, Tony, searching for his own identity when two friends, one of whom is Anglo and the other who is an American Indian tell him, "You're not like me," and "I think you're only half, or less than half (Anglo)." The story reveals how Tony recognized physical attributes associated with his own identity.
As the lake grew still, the boys saw the color of their hair, eyes, and skin. Scott's hair was yellow and his eyes were the color of the sky. Will's skin was brown, and his hair black as night. Tony saw that he wasn't as dark as Will or as light as Scott (p. 3).
This story relates to self-images, based on the main character striving to find his identity through experiences with important people in his life.
Recent Discoveries
In my current work with students and teachers at the Dishchii'Bikoh Elementary School in Arizona, I continue to uncover similar books focused on storytelling to explore relationships.
Storytelling to Introduce and Reinforce Relationships
Carole Lindstrom, a citizen of the Turtle Mountain Band of Ojibwe, shares her lens on the connection between water and Indigenous people in the book We Are Water Protectors. Within the Ojibwe culture, women are the protectors of the water and men are the protectors of the fires. Lindstrom felt compelled to speak for the water through this story. The black snake is symbolized by the oil pipelines, which crisscross our lands, bringing destruction and harm. This path leads to a damaged Earth. The author hopes readers gain knowledge of the many tribal nations fighting to prevent piplelines from crossing their lands and waterways. Learn more about one recent water struggle centered on the Standing Rock Sioux nation through the Global Water Alliance.
Fry Bread: A Native American Family Story brings together Kevin Noble Maillard and Juana Martinez-Neal to share the story of fry bread, a common story to many American Indians that embraces community and culture in the face of oppression. Many tribes trace the modern Indian cooking to a government-caused deprivation of food resources. From federal rations of powered, canned, and other dry, government-issued foods, fry bread was born. Fry bread stories exist in every Indian Nation, describing how the fry bread is made, as well as the ingredients, texture, shape, smell and taste. This relevant story to our Native people depicts the relationship from the past to this day.
Traci Sorell of the Cherokee Nation brings readers two last books exploring how storytelling is used to examine relationships. The first text, Powwow Day, relays the story of a Native girl, River, who is still healing from an unnamed illness. The Powwow is significant in many ways to Native people who dance for the Creator, the ancestors, their families and everyone's health. River's family members and friends show readers the importance of relationships as they dance in the powwow to bring healing powers.
A second book by Traci Sorell, We Are Still Here! Native American Truths Everyone Should Know, received a 2022 American Indian Youth Literature Award. This story shows how one school invites Native American young people to learn the true facts of the Native Nations. On-going struggles centered on topics such as forced assimilation, relocation from reservations but also self-determination and empowerment emphasize a powerful refrain: We are still here!
In closing, I believe that when Indigenous children read books about their own culture, they are drawn to the stories which therefore promote further reading. Indigenous American children's literature also contains identifiable, cultural influences that increase the background knowledge of all children regarding Native cultures.
Rosenblatt (1995) notes that the reader draws on past experience of life and language to create meaning from the printed words. Therefore, it is possible to see how through these traditional stories consisting of myths, legends and folktales as well as contemporary stories and poetry, the reader reorganizes past experience to attain new understanding. Children reading culturally authentic literature may have past life experiences or other texts they know about, which help them relate to Indigenous American children's books. For this reason, students hopefully acknowledge more about what they are reading, making it necessary for teachers to continue to provide them with experiences in reading and responding to new culturally authentic Indigenous American literature.
Further information regarding recent Indigenous American children's and YA books can be found in the July 2022 WOW Dozen.
References
Cordova, V.F. (2007). How it is: The Native American philosophy of V. F. Cordova. The University of Arizona Press.
Reese, D. (2007). Proceed with caution: Using Native American folktales in the classroom. Language Arts (84) 3: 245-256.
Rosenblatt, L. (1938/1995). The Reader, the text, the poem: The transactional theory of literary work. Southern Illinois University Press.
WOW Currents is a space to talk about forward-thinking trends in global children's and adolescent literature and how we use that literature with students. "Currents" is a play on words for trends and timeliness and the way we talk about social media. We encourage you to participate by leaving comments and sharing this post with your peers. To view our complete offerings of WOW Currents, please visit its archival stream.
array(12) {
  ["_edit_lock"]=>
  array(1) {
    [0]=>
    string(12) "1657904178:2"
  }
  ["_edit_last"]=>
  array(1) {
    [0]=>
    string(1) "2"
  }
  ["_thumbnail_id"]=>
  array(1) {
    [0]=>
    string(5) "37464"
  }
  ["_yoast_wpseo_opengraph-image"]=>
  array(1) {
    [0]=>
    string(81) "https://wowlit.org/wp-content/media/Powwow-Day-Sorell-Goodnight-9781580899482.jpg"
  }
  ["_yoast_wpseo_opengraph-image-id"]=>
  array(1) {
    [0]=>
    string(5) "42724"
  }
  ["_yoast_wpseo_twitter-image"]=>
  array(1) {
    [0]=>
    string(90) "https://wowlit.org/wp-content/media/Fry-Bread-Kevin-Noble-Maillard-Juana-Martinez-Neal.jpg"
  }
  ["_yoast_wpseo_twitter-image-id"]=>
  array(1) {
    [0]=>
    string(5) "39409"
  }
  ["_yoast_wpseo_focuskw"]=>
  array(1) {
    [0]=>
    string(51) "authentic indigenous american children's literature"
  }
  ["_yoast_wpseo_metadesc"]=>
  array(1) {
    [0]=>
    string(151) "Angie shares authentic Indigenous American children's literature, including traditional stories, myths and legends in the oral storytelling traditions."
  }
  ["_yoast_wpseo_linkdex"]=>
  array(1) {
    [0]=>
    string(2) "78"
  }
  ["_yoast_wpseo_content_score"]=>
  array(1) {
    [0]=>
    string(2) "30"
  }
  ["_yoast_wpseo_primary_category"]=>
  array(1) {
    [0]=>
    string(4) "3388"
  }
}