Meet Bill Konigsberg
May 13, 2018 @ 10:00 am

-

12:00 pm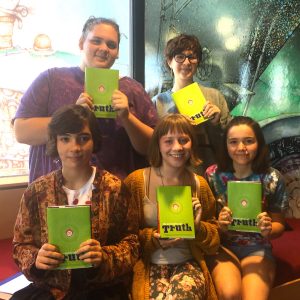 Join the Worlds of Words Teen Reading Ambassadors as we welcome Bill Konigsberg, author of The Porcupine of Truth. We are compelled by the search for and importance of belonging in this story of an epic road trip involving family history, gay history, the girlfriend our hero can't have, the grandfather he never knew, and the Porcupine of Truth.
Carson Smith is resigned to spending his summer in Billings, Montana, helping his mom take care of his father, a dying alcoholic he doesn't really know. Then he meets Aisha Stinson, a beautiful girl who has run away from her difficult family, and Pastor John Logan, who's long held a secret regarding Carson's grandfather, who disappeared without warning or explanation thirty years before. Together, Carson and Aisha embark on an epic road trip to find the answers that might save Carson's dad, restore his fragmented family, and discover the "Porcupine of Truth" in all of their lives.
The University of Arizona Bookstore offers books for sale and autographing.
Event details may change, so check back for updates.