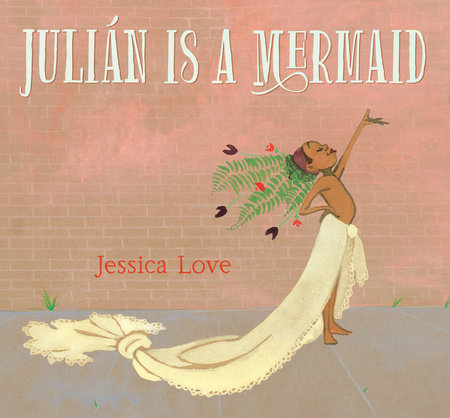 Julián Is a Mermaid
Written and illustrated by Jessica Love
Candlewick Press, 2018, 40 pp.
ISBN: 978-0763690458
2019 Jane Addams Children's Book Award
Honor Book, Books for Younger Children
Julián and Abuela visit an indoor pool where mature women fearlessly reveal the splendor and strength of body diversity in their eye-catching swimming suits. Riding the subway back, Julián dives into a picture book, his imagination choreographing a new story line inspired by the pool and three elegant "mermaids" who have boarded the train, resplendent in their piscine gowns and elaborate hair-dos. Julián imagines joining a school of sea creatures and rejoices in the wisdom and freedom of the water.
After leaving the subway, Julián asks Abuela whether she has also noticed the mermaids. Though she has, she continues walking resolutely toward the threshold of their home. Showing her the picture book, Julián declares, "I am also a mermaid" and, with uneasy knowing, Abuela unlocks the front door. Announcing that she's going to take a bath, she cautions Julián to "be good." When she reappears draped in fluffy white towels, she finds her grandchild adorned in the lace window curtain, fronds from a potted fern, flowers from a bouquet on her vanity and even some of her lipstick. Abuela frowns and, like the anxious-looking mer-child, we hold our breath as she exits the room to get dressed. But upon her return, she gently utters "Come here, mijo," offering-up her pink beads. Hand in hand, Abuela leads Julián outside and into the open where they sashay down steps into a flower-filled garden. Neither we, nor Julián, know what will happen next, until a few pages later, when they join a magnificent mer-person parade on the beach. They happily swim across the boardwalk behind the three mermaids Julián had admired.
Jessica Love's flowing minimalist text is expanded through her exquisite illustrations in watercolor, gouache and ink that masterfully tell Julián's story. Jewel-like splashes of color offset a muted peach and aqua backdrop, transmitting and inspiring delight in gender creativity. In pictures and in words, readers embark on a journey that is not only physical, but also imaginative and emotional–from Julián's nervous wonderment, curiosity, and daring, to confidence and openness in communicating identity. Matriarchal Abuela makes her own journey, as well from weary guardian who may not want to see what Julián sees, to discomfort, acceptance, and finally celebration. Water as metaphor for transparency, fluidity, as a profound means of inner transportation, and as a life source flows through the story. Love's decision to leave the occasional Spanish expression unitalicized may also suggest bilingual validation. In sum, Julián Is a Mermaid tenderly distills a profound human truth that we each need to be seen and appreciated for who we are.
With a BA in studio art and a drama degree from Julliard, it is unsurprising that Love applies imagination, make-up and costume to carry the narrative in her debut picture book that has won the hearts of many reviewers. Some, however, noting that Love is a white, cisgender author-illustrator, have questioned the picturebook's accuracy and authenticity. Does Julián's mermaidization risk mythologizing gender nonconformity? Is Abuela's journey toward acceptance so swift that it trivializes the lived oppressions of gender-creative individuals? Why is the pronoun "he" used for a child exploring a transgender identity? The Jane Addams Children's Book Award Selection Committee, which included individuals of color, members with biracial families as well as those with adult children who are gay or trans identities — pondered these questions during the review process.
We noted that Love's inspiration for the text was derived from a personal friend who had to wait much longer to transition to a man than he had wanted. Julián's mermaidization is deeply symbolic of individuals who have to dive into their inner being and struggle against the tide. We noticed that Abuela's attitude shifted well after the half-way point in the picturebook, allowing the narrative to speak to the realities of marginalized individuals and communities, as well as depict and catalyze a more hopeful future where minority voices can be the pioneers of societal progress. Further, we observed that applause for Julián not only reverberated within book award selection committees generally, but also from those dedicated to promoting authentic LGBTQIA content—earning the 2019 Stonewall Book Award and selected for the 2019 Rainbow List. We recognize that much of what commercial publishers deem "marketable" has been and continues to be a barrier for authors and illustrators of color who identify as queer. Yet Julián is a Mermaid is a striking story that breaks cycles of fear and illustrates a courageous young child responding creatively to bias and discrimination. From its core, we felt this text radiates acceptance, compassion, and affection.
This Day in June by Gayle E. Pitman and Kristyna Litten (2014), winner of the 2015 Stonewall Book Award and also chosen for the 2016 Rainbow List, complements Julián. With a simple, interactive text and bold depictions of an exuberant Pride parade, it also includes informational backmatter on LGBTQ culture and history, as well as a guide for adults to support conversations on sexual and gender identity. For slightly older children, Pitman's recent picturebook, Sewing the Rainbow: The True Story of Gilbert Baker and the Rainbow Flag, illustrated by Holly Clifton Brown (2018), also pairs nicely with Julián. Gilbert was made to conform until, in 1972 in his early twenties, he moved to San Francisco where he began to sew glamorous costumes for himself, drag performers and also banners for protests and rallies. A close friend of Harvey Milk, Gilbert conceived of and created the first rainbow flags. Informative reader's notes on the beginnings of the gay rights movement extend this biography, which has been included on the 2019 ALA GLBT Round Table Rainbow Book List.
Chloë Hughes, Western Oregon University
WOW Review, Volume XII, Issue 2 by Worlds of Words is licensed under a Creative Commons Attribution-NonCommercial-ShareAlike 4.0 International License. Based on work at https://wowlit.org/on-line-publications/review/xii-2/