by Nojood ALsudairi, King Abdulaziz University, Jeddah, Saudi Arabia
Happy Ramadan.
Students in my children's literature course in Saudi Arabia work in small groups to write and illustrate their own picture books, some of which are now being published for broader distribution in my country. Each week, the processes of one group are highlighted in this blog along with children's books from the Arabic world that they found useful in their writing process. One group of students chose the character of the picture book they were working on before deciding on the plot. While watching a YouTube clip of six-year-old Mishaal (M1SH000 as the name appears in YouTube), who was making fun of Saudi children's books, Tasneem Alqahtani, the group's illustrator, was inspired by his spirit and comments. She tried sending him good picture books from Saudi but he refused to give her an address telling her that he is in the process of writing his own children's books now.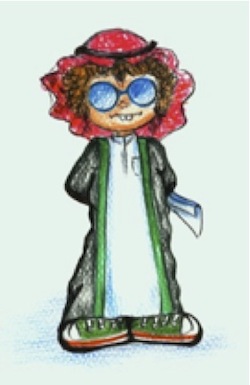 The group chose the character of Misho (a nickname for Mishaal) as the basis for their book's main character. After filling up the character card that we use for all our books, Tasneem drew the main character:
The group had no idea where their plot would go, so they decided to keep on reading children's books, hoping that an idea would emerge from their readings.
They read books from all over the world (in English and Arabic) and were inspired by many. They chose the following books as the most inspiring: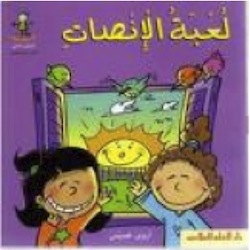 In Lu'abatu linsat (The Listening Game) by Arwa Khomayis (Saudi) and Francois Botais (French) (2006, Dar Elelm Lilmlayen, Lebanon), two sisters play the listening game where one of the children listens to a sound and both imagine what it could be. Finally they listen to their mother's voice calling them for dinner and that is the sound they were waiting for. The group members liked the idea of creating images from sounds.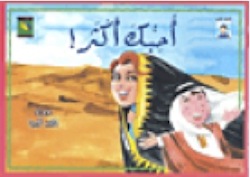 Uhebbuka akthar (I Love You More) by Nahid Ashawwa (Saudi) and Mo'ayyad Ne'mah (Iraqi) (2004, Dar Noon, Egypt), is about a young boy and his mother debating who loves the other more. The students liked the play on feelings, the illustrations and the book design. The writer and publisher are from Saudi.
Akhi Zaid (My Brother Zaid) by Taghreed Annajaar (Lebanese) and Lujainah Alaseel (Syrian) (2008, Assalwa Lilderasat Wannashr, Jordan), is about little Zaid, Jood's brother, who gets into one mischief after another. His family search for him one day and find him in his sister's dress cabinet. Jood discovers that no matter what her brother does she still loves him. The group members were inspired by the children's contradictory feelings.
Tamer wa olbatu ashokolata alhamraa (Tamer and the Red Box of Chocolates) by Fatema Sharafu-ddin (Lebanese) and Annik Masson (Belgian) (2009, Asalh Liltiba'ah Walnashr, Lebanon), is about a boy, Tamer, who longs to eat the chocolates in the red box that his mom bought as a present for their sick neighbor. After a day's journey between the flats of Tamer's building, the red box ends up in Tamer's hands and he decides to share the chocolates with a friend. The students were inspired by the ideas of desperately wanting something and sharing what one gets.
The group discussed many ideas for their book, including an upside down world, a different child, what the world would be like if I were not alive, a suppressed laugh, bad judgments, and many more. The whole group liked Tasneem's idea of a suppressed laugh and decided to elaborate on it. The plot finally had a shape! Tasneem Alqahtani wrote; "In the story Lan uflituki, Lan Anfalit (I will not release you, I will not be released) Misho looks at the framed photographs of himself and his family members hanging on the wall. Duhkooki (a twisted form of the word laughter in Arabic) starts teasing him about his expression-free face that appears in all of the photographs. Misho accuses his laughter of refusing to be released. Misho and Duhkooki argue about which of them is responsible for Misho's expressionless face, but when they notice a picture of Misho making a silly face, he bursts out laughing."
The character of Duhkooki was easy to create when writing, but when they started thinking about illustrating the character it was hard for the group to imagine. Tasneem remembered the American Movie Flubber (1997) where Flubber is transparent. She decided to draw Duhkooki as a transparent, jello-like shape. The final look of the character satisfied the group.
The book was written by Tasneem Alqahtani, Doa' Sa'dawi, Fatema Motawa', Haneen Metwalli and Nojood Addawsari, and illustrated and designed by Tasneem Alqahtani. Tasneem is still working on the book's design. It is expected to be published in March 2012.
Journey through Worlds of Words during our open reading hours: Monday-Friday, 9 a.m. to 5 p.m. and Saturday, 9 a.m. to 1 p.m. To view our complete offerings of WOW Currents, please visit archival stream.