By T. Gail Pritchard, Ph.D., University of Arizona College of Medicine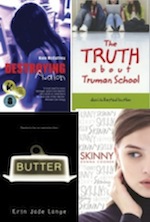 In this last blog for the month, I want to share some books that deal with other kinds of epidemics, notably: bullying, obesity, substance abuse and suicide. These books are not pretty in nature, they do not necessarily have "happy" endings, and they are often connected to each other. They offer a glimpse into contemporary behaviors occurring in epidemic proportions among our youth.
Cyberbullying
Weber (2012) compares bullying to a disease and says it "cultivates and feeds off of the bloodline of social acceptance and like-minded opinion, fueled by fear and pain so deep, it is subconscious" (p. 1). While bullying is not new, it has a new realm. With the advent of social media, bullying has reached new heights as victims are terrorized 24/7 with no reprieve. Stephens notes we live in "a world where bullies can reach you anywhere and anytime and where humiliation is shared at the click of a mouse to a widespread audience" (p. 2). Cyberbullying and its effects have reached such magnitude, "that President Obama held a White House conference on bullying…and subsequently launched StopBullying.gov, a website to help prevent and stop bullying" (Stephens, p. 2). The following books are just a few that explore this social epidemic:
McCaffrey, K. (2006). Destroying Avalon. Fremantle Press. ISNBN: 10-1921-064579. 264pp.
This award winning novel from Australia reveals how quickly life can be destroyed as the 14 year old main character finds herself the target of cyberbullying. This book has been described as "absorbing," "brutal," "disturbing," "terrifying," "amazing," captivating," and "touching." In addition to winning awards, it has been added to school reading lists in Australia.
Butler, D.H. (2008). The Truth about Truman School. Albert Whitman & Company. ISBN: 10-0807580953/ 176 pp.
Geared for middle school ages, The Truth about Truman School is about an on-line newspaper started by the editor of the school newspaper and one of her friends. What was started with good intentions as a place to talk about issues the administration did not want discussed in the school newspaper, becomes the site of anonymous, malicious postings intent on taking down one of the students. What is particularly frightening is how quickly the rumors take hold and the devastation they cause.
Obesity
In the global health course I took this summer, one of the lecturers told us, there are currently more overweight children in the world than underweight. I found this quite surprising and began doing a little investigation. In a recent report, the CDC (2012) states, "approximately 17% (or 12.5 million) of children and adolescents aged 2-19 years are obese" in the United States;
and Cole, Bellizzi, Glegal, and Dietz (2000) describe not only the increase in obesity worldwide, but the "risk factors for later heart disease and other chronic diseases…" (p.1). What is not universally agreed upon is the definition of obesity. Most definitions relate to BMI's, but Quick (2008), in her review of YA novels portraying obese teenagers, argues obesity is a social construct. The following books describe what happens to characters who are seen as obese by their peers.
Cooner, D. (2012). Skinny. Point. ISBN: 10: 0545427630. 272 pp.
Quick (2008) asserts that in most novels, the obese character never moves beyond society's notion of body image and strive toward reaching that "ideal" thinness. In Skinny, fifteen year old Evers who weighs over 300 pounds finds herself increasingly isolated by just about everyone, even her childhood friend. "Skinny" is the voice of the malignant tape playing over and over in her head, belittling her for her size, her use of a food to comfort, and her inability to lose weight. After a particularly embarrassing incident at school, she decides upon gastric bypass surgery in her quest to become the perfect size. Because Cooner, herself, as undergone gastric bypass surgery, the novel rings true in its description of the surgery and it its aftermath. As in many novels of this ilk, Evers begins to move beyond her own self-loathing and in the process, realizes those around her are not without flaws of their own; and yet she still seeks to fit within society's norms.
Lange, E.J. (2012). Butter. Bloomsbury. ISBN: 10-1599907802. 304 pp.
Lumeng et al (2012), point out that besides the physical risks involved with obesity, "obese children are more likely to be bullied, regardless of gender, race, SES, school racial and socioeconomic composition, and mother- and teacher-reported child social skills and child academic achievement" (p. 1301) and Han Lawlor, and Kim (2010) link the obesity epidemic to "easy access to energy-dense cheap foods and low energy requirements in daily life" (p. 1737). Those observations come full circle in Lange's book, Butter. The main character of this novel is known as Butter—a nickname emerging from a bullying episode when he was in middle school and forced to eat a stick of butter. As the story opens, Butter is a junior in high school weighing over 400 pounds—in large part inadvertently aided by his mother who supplies him with endless amounts of "comfort" food. After an embarrassing incident in school (sound familiar?), Butter decides he will take his life and do so in a very public way—live on social media. His method? He will eat himself to death on New Year's Eve. He creates a website, butterslastmeal.com and invites his classmates to his last meal. As the students get wind of the website, they actively involve themselves in planning his last meal and by helping him complete a "bucket list" they create. The irony is, for the first time, Butter is popular, "The only thing I knew for sure was that ever since I'd posted my plan on the Internet, my life had been better" (p. 185). Eventually Butter realizes his popularity is not based on new friendships, but on voyeurism and cruelty. As New Year's Eve draws closer, Butter finds he wants to live, but he's promised the world he will take his life while they watch.
Substance Abuse
The National Center on Addiction and Substance Abuse at Columbia University (CASA) Report describes "teen smoking, drinking, using prescription drugs and using illegal drugs a public health problem of epidemic proportions" (CASA, retrieved 10.02.13). These adolescents are an at-risk population who often "have addicted or abusive parents, are vulnerable to mental health problems, or have experienced some kind of trauma" (CASA, retrieved 10.02.13). In reading this report, three facts stood out to me: 1. "90% of Americans who are currently addicted started smoking, drinking or using drugs before age 18." 2. "75% of all high school students have used alcohol, tobacco or either legal or illicit drugs and 20% of these adolescents are addicted." 3. "…misuse of prescription drugs such as Oxycontin and medications for attention deficit disorder continue to climb" (Park, 2011, pp. 1-2). I begin with a novel I read in high school….
Anonymous. (1971). Go Ask Alice. Simon Pulse. ISBN-10: 0671664581. 192 pp.
I chose to include this novel because I clearly remember when it was published; I was a sophomore in high school. We were intrigued by this brutal look at addiction: Is "Anonymous" a real person? Is this a real diary? Is this really an accurate portrayal? Then a new girl arrived at our high school; her mother was the new host for a new noon-time TV program on local events. During the next few years, she was in and out of rehab and for us, she was our Anonymous whom we desperately tried to help without success—she was incredibly, totally self-destructive. I don't remember her name, but I do remember the constant pressure exerted upon her by her mother; I do remember her mood swings; and I do remember she simply could not stay "clean." While this novel has taken a number of hits in the review department over the years, it remains a classic read into the harrowing effects of drug addiction.
Keegan, K, Moss, H., and Benderly, B.L. (2008). Chasing the High: A Firsthand Account of One Young Person's Experience with Substance Abuse. Oxford University Press.
Given the mixed reviews for Go Ask Alice, I wanted to include a different account, this one a definitively true account of substance abuse. Written by Keegan who is a recovering substance abuser was a "well-adjusted" teenager who chose heroin as a way of life. He describes his descent into addiction and then, with the help of Dr. Howard Moss, offers advice on seeking treatment, varying kinds of therapies, and communicating with others.
Suicide
Suicide is not on the increase, but awareness of youth suicide is; in part because of the increased attention of youth suicide connected to bullying. The CDC bulletin, Suicide Prevention, notes several factors putting youth at risk, including previous attempts, family history of suicide, history of depression, substance abuse, stressful life event or loss, access to method, exposure to suicidal behaviors, and incarceration. Suicide is not an easy topic to discuss, "too often, victims are blamed, and their families and friends are left stigmatized" (CDC retrieved 10.02.13); and as a result, misconceptions abound. The following are two examples of the growing list of novels where suicide is attempted or has been achieved.
Hopkins, E. (2007). Impulse. Margaret K. McElderry Books. ISBN-10: 1416903569. 672 pp.
Hopkins is known for her gritty, realistic novel where the ending is never "happily ever after." Impulse is no exception. In this free verse novel, three teens, in alternating voice, reveal their life stories and how they ended up in a psychiatric hospital after their failed suicide attempts. Each of the teens' reasons were different, each at-risk for more attempts.
Vaught, S. (2006). Trigger. Bloomsbury. ISBN-10: 1582349207. 292 pp.
Jersey has survived a suicide attempt. However, as a result, he has brain damage affecting his memory and his motor functions. He has no clue why he attempted suicide and most of his friends have abandoned him. Trigger, a Booklist Starred Review YA novel, focuses on Jersey's attempts to figure out why he shot himself in the head. In a conversation with Vaught at an NCTE conference, she told me her characters are an amalgamation of clients—she is a neuropsychologist—and it is clear she has a deep understanding of adolescent suicide; there are never any clear-cut answers, especially for those left behind.
This last blog focused on epidemics that are difficult to acknowledge, difficult to talk about, and difficult to read about. Certainly, societal complacency is a gateway into escalated behaviors for at-risk youth, youth who "face personal circumstances or challenges that make them more susceptible" (Feinstein, Richter, and Foster, 2012, p. 433). While these epidemics are not new, attention to them and the manifestations are now in the public's view. Now that we know, what are we willing to do to stop them?
References:
Center for Disease Control. (Retrieved 10.02.13). Suicide Prevention. http://www.cdc.gov/ViolencePrevention/suicide/youth_suicide.html.
Cole, TJ, Bellizzi, MC, Flegal, KM, and Dietz, WH. (2000). Establishing a standard definition for child overweight and obesity worldwide: International survey. BMJ, 320, 1-6.
Han, J.C., Lawlor, DA, Kimm, SY. (2010). Childhood obesity. The Lancet, 375(9727), 1737-1748.
Lumeng, JC.-, Forrest, P, Appugliese, DP, Kaciroti, N, Corwyn, RF. and Bradley, RH. (2010). Weight status as a predictor of being bullied in third through sixth grades. Pediatrics, 125(6), 1301-1307).
The National Center on Addiction and Substance Abuse at Columbia University (retrieved 10.02.13). Adolescent Substance Use: America's #1 Public Health Problem. http://www.casacolumbia.org/upload/2011/20110629adolescentsubstanceuse.pdf.
Ogden, C. and Carroll, M. (2010). Prevalence of Obesity among Children and Adolescents: United States, Trends 1963-1965 through 20076-2008. Health E-Stat. http://www.cdc.gov/nchs/data/hestat/obesity_child_07_08/obesity_child_07_08.pdf.
Park, A. (2011). Teens and Drugs: Rite of Passage or Recipe for Addiction. http://healthland.time.com/2011/06/29/teens-and-drugs-rite-of-passage-or-recipe-for-addiction/.
Quick, CS. (2008). "Meant to be huge": Obesity and body image in young adult novels. The ALAN Review, 35(2), pp. 1-10.
Stephens, J. (retrieved 09.27.13). Cyberbullying—A Deadly Epidemic. http://www.imanetwork.org/advocacy/internet-safety/cyberbullying-%E2%80%93-a-deadly-epidemic/.
Weber, A. (2012). How our society has manifested the bullying epidemic. HuffPost. http://www.huffingtonpost.com/amy-weber/how-our-society-has-manif_b_1548368.html
Please visit wowlit.org to browse or search our growing database of books, to read one of our two on-line journals, or to learn more about our mission.