By Daniel Geffre, Editorial Intern, Worlds of Words
Worlds of Words' new exhibit features traditional Hmong storycloths from WOW's Mary J. Wong collection along with children's books and hands-on activities for all ages. Stitching Stories: Hmong Customs and Symbols as Told through Storycloths highlights the oral and textile storytelling traditions of the Hmong people. Examples of storytelling through textiles from Vietnam, Panama, Peru and Turkey are also on display. The free, all-ages exhibit is open to the public now through May in Worlds of Words, an initiative of the University of Arizona College of Education.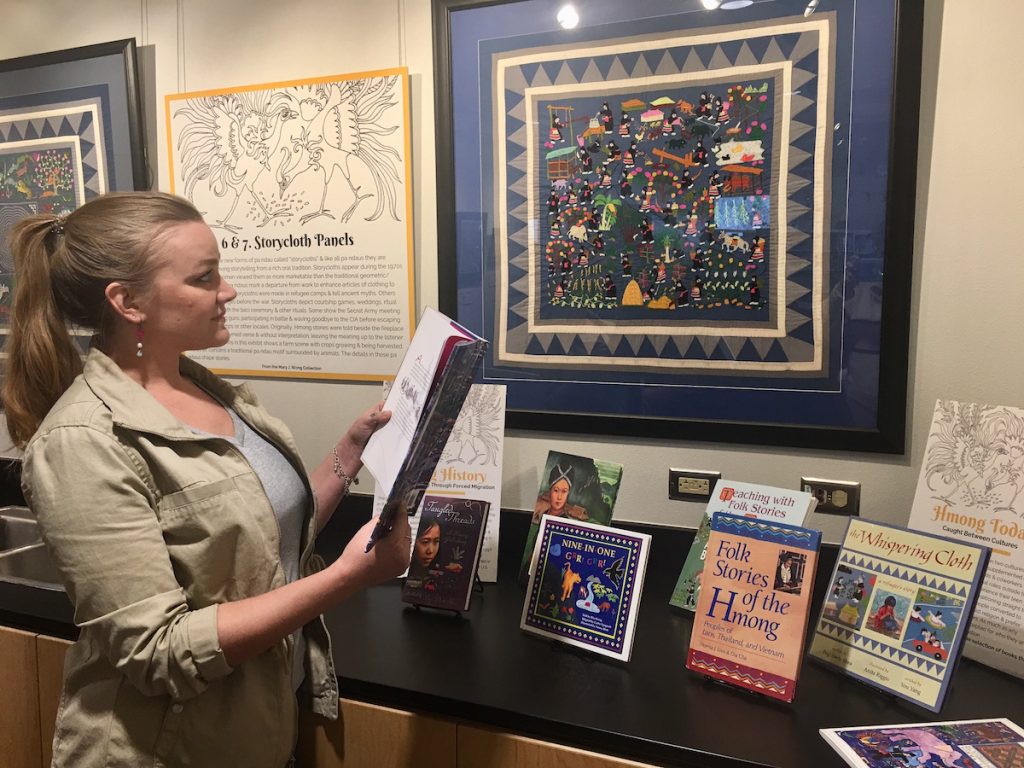 "The elaborate, detailed art powerfully represents the history and culture of the Hmong people. The exhibit also includes children's literature and activities that expand understandings of the art on display," says Kathy Short, WOW Director.
The Hmong people are thought to be the first group to settle in the Yellow River Valley in China. Though they were displaced by the Han Chinese 2000 years ago. They were displaced again after serving in the CIA's "Secret Army." While Hmong people adapted to each new locale, they retained their customs and traditions.
The Hmong people pass along their stories through pa ndau, or "flower cloths." At first the pa ndau were created to adorn clothing, but eventually a new form called "storycloths" emerged exclusively for decorative purposes. Pa ndau incorporates weaving, appliqué, reverse appliqué, cross stitch, chain stitch, batik and embroidery. Some storycloths were made in refugee camps and tell ancient myths. Others show what life was like in their villages before the war. They can also depict courtship games, weddings, ritual sacrifice, feasting with the baci ceremony and other rituals.
WOW is free to visit and open to the public from 9 a.m. to 5 p.m. on Monday through Friday and 9 a.m. to 1 p.m. on Saturdays. WOW hosts a reception for Stitching Stories from 4:30 to 5:30 p.m. on Thursday, February 15 that includes a presentation about Hmong traditions and storycloths. The reception does not require an RSVP but one is preferred.
To schedule a guided tour of Stitching Stories or to RSVP for the reception contact WOW by email at wow@email.arizona.edu or by phone at 520.621.9340.
array(10) {
  ["_edit_lock"]=>
  array(1) {
    [0]=>
    string(12) "1517335406:2"
  }
  ["_edit_last"]=>
  array(1) {
    [0]=>
    string(1) "2"
  }
  ["_thumbnail_id"]=>
  array(1) {
    [0]=>
    string(5) "29982"
  }
  ["_yoast_wpseo_focuskw_text_input"]=>
  array(1) {
    [0]=>
    string(5) "Hmong"
  }
  ["_yoast_wpseo_focuskw"]=>
  array(1) {
    [0]=>
    string(5) "Hmong"
  }
  ["_yoast_wpseo_metadesc"]=>
  array(1) {
    [0]=>
    string(215) "Stitching Stories: Hmong Customs and Symbols as Told through Storycloths highlights the oral and textile storytelling traditions of the Hmong people. The free, all-ages exhibit is open to the public now through May."
  }
  ["_yoast_wpseo_linkdex"]=>
  array(1) {
    [0]=>
    string(2) "79"
  }
  ["_yoast_wpseo_content_score"]=>
  array(1) {
    [0]=>
    string(2) "30"
  }
  ["_yoast_wpseo_primary_category"]=>
  array(1) {
    [0]=>
    string(4) "3549"
  }
  ["_wp_old_slug"]=>
  array(1) {
    [0]=>
    string(5) "30796"
  }
}