By Courtney Gallant, Editorial Assistant Intern, Worlds of Words
Create. Play. Learn. Whimsical adventure comes to mind at these words, and that's what greets patrons of a new exhibit of original art and picturebooks at Worlds of Words in the University of Arizona College of Education. The exhibit is free and open to the public who are encouraged to visit Create. Play. Learn. to see how children's literature reflects these childhood activities.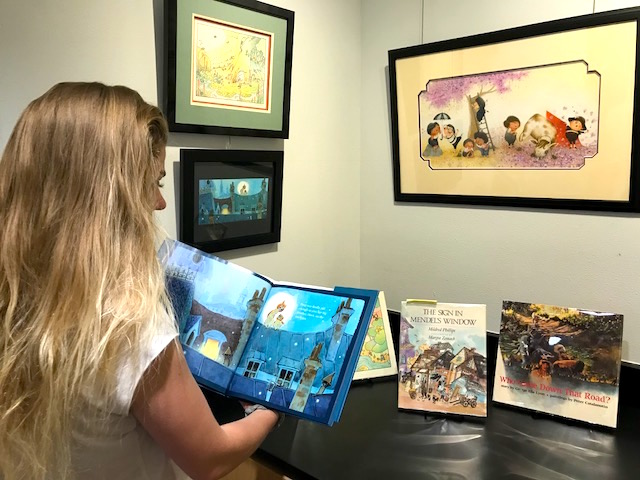 "This exhibit is a lighthearted exploration into the meaning Create. Play. Learn. has within children's literature," says Kathy Short, Professor of Teaching, Learning and Sociocultural Studies and Director of WOW. "It encapsulates the experience of childhood, how children are always creating, playing and learning to bring meaning and significance into their lives."
This exhibit provides a glimpse into the three biggest joys of childhood through literature and art. Lita Judge's striking watercolor art is on display alongside her book Mary's Monster, a young adult novel about Mary Shelley's creation of both the monster Frankenstein and the genre of modern horror. Laura Kvasnosky writes and illustrates the playful tale of Zelda and Ivy as they prank each other and pretend to be in the opera with their friend Eugene. Elise Primavera's youthful illustrations in Thumb Love depict an amusing story about a girl learning how to quit a bad habit.
Create. Play. Learn. will be on display in Worlds of Words mid-June through mid-August. The collection is free to visit and open to the public from 9 a.m. to 5 p.m., Monday-Friday and 9 a.m. to 1 p.m. on Saturdays. For more information or to schedule a guided tour, contact wow@email.arizona.edu.
array(16) {
  ["_edit_lock"]=>
  array(1) {
    [0]=>
    string(14) "1555445378:275"
  }
  ["_edit_last"]=>
  array(1) {
    [0]=>
    string(3) "275"
  }
  ["_thumbnail_id"]=>
  array(1) {
    [0]=>
    string(5) "29982"
  }
  ["_yoast_wpseo_content_score"]=>
  array(1) {
    [0]=>
    string(2) "30"
  }
  ["_yoast_wpseo_primary_category"]=>
  array(1) {
    [0]=>
    string(4) "3549"
  }
  ["_yoast_wpseo_focuskw_text_input"]=>
  array(1) {
    [0]=>
    string(11) "art exhibit"
  }
  ["_yoast_wpseo_focuskw"]=>
  array(1) {
    [0]=>
    string(11) "art exhibit"
  }
  ["_yoast_wpseo_metadesc"]=>
  array(1) {
    [0]=>
    string(153) "Whimsical adventure greets patrons of a new picturebook and art exhibit at WOW. The exhibit is free and open to the public. Come create, play, and learn."
  }
  ["_yoast_wpseo_linkdex"]=>
  array(1) {
    [0]=>
    string(2) "78"
  }
  ["_yoast_wpseo_opengraph-image"]=>
  array(1) {
    [0]=>
    string(66) "https://wowlit.org/wp-content/media/Create-Play-Learn-Courtney.jpg"
  }
  ["_yoast_wpseo_twitter-image"]=>
  array(1) {
    [0]=>
    string(66) "https://wowlit.org/wp-content/media/Create-Play-Learn-Courtney.jpg"
  }
  ["_yoast_wpseo_opengraph-title"]=>
  array(1) {
    [0]=>
    string(39) "Create. Play. Learn. at Worlds of Words"
  }
  ["_yoast_wpseo_opengraph-description"]=>
  array(1) {
    [0]=>
    string(305) "Create. Play. Learn. Whimsical adventure comes to mind at these words, and that's what greets patrons of a new exhibit of original art and picturebooks at Worlds of Words in the University of Arizona College of Education. The exhibit is free and open to the public. Come create, play, and learn with us."
  }
  ["_yoast_wpseo_twitter-title"]=>
  array(1) {
    [0]=>
    string(39) "Create. Play. Learn. at Worlds of Words"
  }
  ["_yoast_wpseo_twitter-description"]=>
  array(1) {
    [0]=>
    string(305) "Create. Play. Learn. Whimsical adventure comes to mind at these words, and that's what greets patrons of a new exhibit of original art and picturebooks at Worlds of Words in the University of Arizona College of Education. The exhibit is free and open to the public. Come create, play, and learn with us."
  }
  ["_yoast_wpseo_opengraph-image-id"]=>
  array(1) {
    [0]=>
    string(5) "31761"
  }
}