By Susan Corapi, Trinity International University, Deerfield, IL
This last month has been marked by new heat records, blamed on climate change. Environmentalists prod us individually and collectively to take action to reverse this change. We are encouraged to use our vehicles less so we emit less CO2 gases. We reduce, reuse, and recycle. Some communities put restrictions on grocery stores using plastic bags in an effort to reduce plastics in landfills. And we can now purchase products that assure us they were made with a high percentage of recycled materials. In fact we can walk on boardwalks at national parks made of recycled bottles and sit on benches made of recycled plastic bags. We can purchase decor made from repurposed objects and mulch our gardens with recycled rubber tires. All of these actions relate to a sustainable use of resources–in other words, how can we use the precious natural resources we have in ways that reduce the "footprint" we leave behind and conserve resources for the future?
Stopping and reversing global-scale damage starts with awareness and the belief that change is possible. This week I want to profile books that raise that awareness or describe actions–both small and large–that people of all ages have taken in order to preserve our natural resources.
Allan Drummond is from England and he has written and illustrated a series of four picturebooks that profile ways in which communities have reversed environmental or energy-related problems in creative and sustainable ways. He comments in an Author's Note that "solutions to our energy and sustainability challenges can be found anywhere and require a global perspective" (Solar Story). So his books feature stories of communities working together in Denmark, the Netherlands, Morocco and the United States.
Energy Island: How One Community Harnessed the Wind and Changed Their World (2011) describes the communal efforts of citizens of the Danish island of Samsø to go from energy-dependent on the mainland to energy-independent. The goal was to do away with their need for oil, coal and natural gas and instead depend on wind energy, a natural resource they had in abundance. Led by teacher Søren Hermansen, they reduced their carbon emissions by 140%.
In Green City: How One Community Survived a Tornado and Rebuilt for a Sustainable Future (2016) Drummond describes the decisions and actions taken by the citizens of Greensburg, Kansas after their city was destroyed in nine minutes by a category 5 tornado. As residents began to rebuild, they made green choices that have transformed their city from energy dependent to independent. They changed the building designs to be tornado resistant; they used natural plants; they built rainwater collection systems; they installed wind farms. Today the city is 100% renewable, 100% of the time.
Pedal Power: How a Community Became the Bicycle Capital of the World (2017) describes the efforts of residents to keep Amsterdam safe for bicyclists. When a journalist's daughter was killed on her way to school on her bike, the citizens began to protest in earnest. Today many streets are bike-only, and motorists have to pay a fee on weekdays in order to drive in the city center. The bike movement that started in Amsterdam has moved around the world where cities have provided bikes to be borrowed and dropped off in order to encourage biking (Shanghai has 50,000!) Pedaling is powerful for health, and as one Mom in Amsterdam stated, "Cities need bikes" in order to improve city life for everyone (Author's Note).
The narrative of Solar Story: How One Community Lives Alongside the World's Biggest Solar Plant (2020) centers around a class assignment on sustainability–what is it and what does it mean to sustain? The children in the story live in a small town next to the largest solar power plant in the world in Morocco on the edge of the Sahara desert. Class members learn about solar energy and take a field trip to the plant so they can explore how the plant uses a sustainable process to collect energy. They also learn how the plant offers opportunities for learning and building skills that impacts their futures directly. Jasmine, the narrator of the story, makes an apt conclusion when she says "Maybe, because so many wars are about oil and other resources, sustainability will lead to a more peaceful world. . . Maybe sustainability could mean peace!"
A significant trait of Drummond's books is that they give solutions–ways out of seemingly impossible environmental issues–that communities have used to address sustainability.
Two other titles talk about taking action that addresses a problem at global and local levels. We Are Water Protectors, written by Anishinabe/Métis Carole Lindstrom and illustrated by Tlingit/Haida Machaela Goade, is a rally call for everyone to protect water on earth because it is fundamental to life. Through rhythmic narrative and bright symbolic illustrations, they remind us that water nourishes all people, animals and plants and call us to collaborate and stand against abuses that destroy or poison life in all forms. One such abuse is the "black snake" (pipeline) that slithers across Native sacred spaces, leaking oil and damaging water, soil, plants and animals.
Collective and collaborative action is a strong feature in the book. It starts small with girls and women, the traditional protectors of water, circling together in the refrain:
We stand
With our songs
And our drums.
We are still here.
Throughout the book the circle becomes larger, adding in other Native tribes, finally culminating in a circle that is racially and culturally diverse. The final spread represents the collaborative efforts made by many at Standing Rock, North Dakota, protesting the Dakota Access Pipeline.
Marine biologist Ana Pêgo grew up right next to the beach in Portugal. Fascinated with the ocean, she has worked to preserve the health of marine life. But she also noticed all the plastic debris that would wash up on the shore, and in 2015 decided to give it a scientific name in an effort to help people understand the impact of this invasive species. So Plasticus maritimus was born.
A book about plastic could be dull, but this informative chapter book is anything but! Full of color, photos and personal narrative, it first describes what oceans do for the earth: they act as a planet thermostat and they produce more than half of the oxygen we need! It then introduces readers to the invasive species in the form of a field guide: identifying plastics, the impact of plastics on the oceans, actions we can take and why recycling is not as effective as reducing or reusing. She concludes with the changes that she made in her own use of plastics, and encourages all readers to rethink (and revolutionize) their use of plastics.
An interesting fact: I learned that there is a large group of scientists and interested citizens who are tracking the flow of plastics with ocean currents by beachcombing and identifying plastics.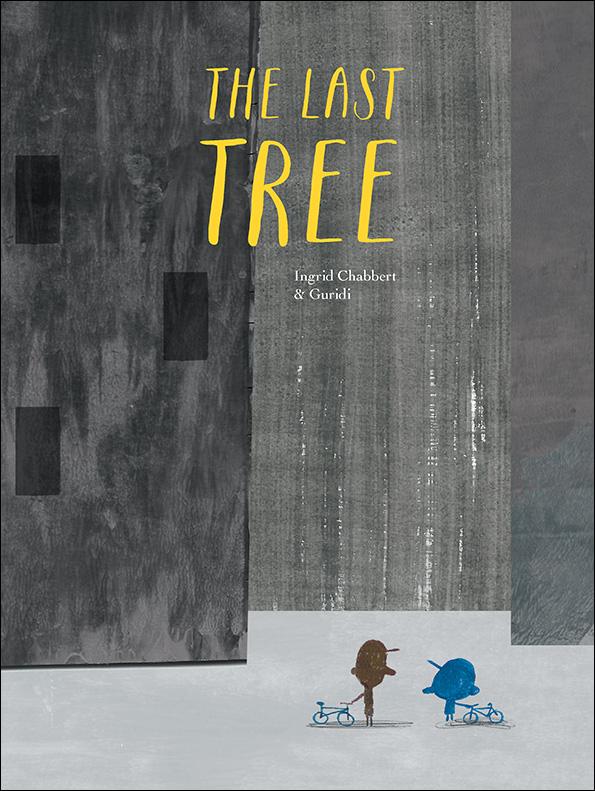 Finally, reminiscent of early environmental picturebooks like The Lorax (Dr. Seuss, 1971) or The Wump World (Bill Peet, 1970), is a reminder of what happens when we ignore nature. The Last Tree, by French author Ingrid Chabert and Spanish illustrator Guridi (2017), is the story of two boys who find the last bit of green in a concrete city. It is a small tree shoot growing behind a crumbling wall but in danger of being destroyed to make room for luxury condos. The boys carefully dig it up and bike for hours to the outskirts of the city where they replant it. The book concludes with a simple statement that, years later as adults, they checked on the last tree–now full grown and magnificent. The story gives hope that small actions can make a difference.
Next week: science and math books that fit a variety of themes, so I grouped and named them "Too Good to Miss!"
Journey through Worlds of Words during our open reading hours: Monday-Friday, 9 a.m. to 5 p.m. and Saturday, 9 a.m. to 1 p.m. To view our complete offerings of WOW Currents, please visit its archival stream.
array(13) {
  ["_edit_lock"]=>
  array(1) {
    [0]=>
    string(14) "1626717898:264"
  }
  ["_edit_last"]=>
  array(1) {
    [0]=>
    string(3) "264"
  }
  ["_thumbnail_id"]=>
  array(1) {
    [0]=>
    string(5) "37464"
  }
  ["_yoast_wpseo_opengraph-image"]=>
  array(1) {
    [0]=>
    string(51) "https://wowlit.org/wp-content/media/Solar-Story.jpg"
  }
  ["_yoast_wpseo_opengraph-image-id"]=>
  array(1) {
    [0]=>
    string(5) "41246"
  }
  ["_yoast_wpseo_twitter-image"]=>
  array(1) {
    [0]=>
    string(59) "https://wowlit.org/wp-content/media/Plasticus-Maritimus.png"
  }
  ["_yoast_wpseo_twitter-image-id"]=>
  array(1) {
    [0]=>
    string(5) "41251"
  }
  ["_yoast_wpseo_focuskw"]=>
  array(1) {
    [0]=>
    string(22) "environmental sciences"
  }
  ["_yoast_wpseo_metadesc"]=>
  array(1) {
    [0]=>
    string(129) "This week Susan Corapi discusses picturebooks about environmental sciences, including Allan Drummond's newest book "Solar Story"."
  }
  ["_yoast_wpseo_linkdex"]=>
  array(1) {
    [0]=>
    string(2) "83"
  }
  ["_yoast_wpseo_content_score"]=>
  array(1) {
    [0]=>
    string(2) "30"
  }
  ["_yoast_wpseo_primary_category"]=>
  array(1) {
    [0]=>
    string(4) "3388"
  }
  ["_wp_old_date"]=>
  array(1) {
    [0]=>
    string(10) "2021-07-19"
  }
}

Themes: Allan Drummond, Ana Pego, Carole Lindstrom, Energy Island: How One Community Harnessed the Wind and Changed Their World, Guridi, In Green City: How One Community Survived a Tornado and Rebuilt for a Sustainable Future, Ingrid Chabbert, Last Tree, Machaela Goade, Pedal Power: How a Community Became the Bicycle Capital of the World, Plasticus Maritimus, Solar Story: How One Community Lives Alongside the World's Largest Solar Plant, Susan Corapi, We Are Water Protectors
Descriptors: Books & Resources, WOW Currents