By Janelle B. Mathis, University of North Texas, Denton, TX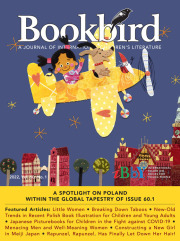 June's earlier post in WOW Currents focused on the wealth of international authors and their works that can be explored by investing time in the nominees, finalists and winners of the Hans Christian Andersen 2022 award. A source to begin this exploration is through Bookbird, A Journal of International Children's Literature, where an issue each year is focused on these outstanding authors and illustrators of children's literature. Given the challenge that we all face — identifying global literature to use with students and in research — I wish to continue thinking about Bookbird as a resource by focusing on recently published issues and the themes therein.
Bookbird Issue 60.1 has a spotlight on the scholarship within Poland around children's literature as well as other articles that exemplify the importance of literature to reveal shared ideologies, social concerns and traditional and historical narratives, thus helping readers better understand other cultures and nations. While the metaphor is not new, I like to think about the tapestry of themes that is created by the global community within and across such articles — a tapestry that informs as well as offers aesthetic opportunities to feel connected through literature. Among the articles from Poland in this issue is "Little Women: Contemporary Polish Novels for Girls as an Example of Engaged Literature" by Dorota Michułka. Michułka explores novels for girls that have potential to shape social competencies of young readers. As themes related to LGBTQ+ issues become more prevalent and the need for such is acknowledged in the U.S., other countries are examining trends and advocating for the importance of such literature. Mateusz Świetlicki and Sabina Waleria Świtała examine the evolution of the publishing trends of LGBTQ+-themed literature through books written by Polish authors and translations into Polish in "Breaking Down Taboos—LGBTQ+ Themes in Contemporary Polish Children's and Young Adult Literature."
"New-Old Trends in Recent Polish Book Illustration for Children and Young Adults" by Anita Wincencjusz-Patyna shares the rich history of illustration in Polish children's literature and reflects the evolving trends witnessed by readers internationally as technology has facilitated the production of such books and many artists have turned their creative talents to illustrating children's literature. Yet another current topic, that of the recent global pandemic, is a theme found by Polish Scholar, Marcelina de Zoete-Leśniczak — "Japanese Picturebooks for Children in the Fight against COVID-19."
This particular issue includes, as well, other international scholarship that weaves into the tapestry themes of gender roles as found in "Menacing Men and Well-Meaning Women: Gender-Role Allocations in English- and German-Language Narrative Picturebooks on Child Sexual Abuse" by Carla Plieth. Another important topic is that of translation and the many facets involved as books are retold among diverse languages. "Constructing a New Girl in Meiji Japan: The Japanese Translation of Frances Hodgson Burnett's Sara Crewe" by Wakako Suzuki shares one example. And yet, another gender focus is found in "Rapunzel, Rapunzel, Has Finally Let Down Her Hair! The Feminist Evolution of "Rapunzel" from the Nineteenth Century to the Twenty-First Century" by Komal Tujare. This wealth of themes to inform and support research and teaching is reflected in but one exemplar issue of Bookbird.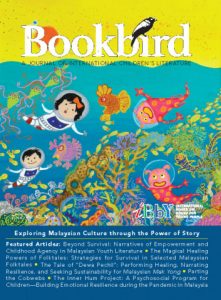 The second issue of 2022 is a focus on the country where the IBBY Congress is to be held. This upcoming September the Congress will be in Malaysia, a country whose literature and literary background I knew little about prior to this issue. Again, a close look at this issue will provide useful and interesting insights to the Malaysian culture. Identity and agency have been a theme frequently examined in adolescent literature and evident in this issue. In "Beyond Survival: Narratives of Empowerment and Childhood Agency in Malaysian Youth Literature," Sharifah Aishah Osman argues that literary texts, as the ones shared here, are examples of narratives of empowerment. With the belief shared by many educators that traditional stories of a country hold great potential to help children overcome some of the challenges of growing up, Heidi Shamsuddin and Eda Suhana Sharudin examine the viability of three Malaysian folk tales as examples of stories of survival.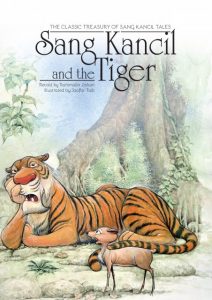 In "The Tale of Dewa Pechil: Performing Healing, Narrating Resilience, and Seeking Sustainability for Malaysian Mak Yong," Patricia Ann Hardwick discusses her collaboration with Kelantanese traditional artists around the dramatic art form of mak yong oral tradition, pointing to the multimodal potential for response and reflection. Cassandra Eva Lau reflects on the power of shared book reading and bedtime oral storytelling in the remedial teaching of Leo, a mildly dyslexic boy in "Parting the Cobwebs." And yet the shared theme of responding to the recent pandemic is again seen in "The Inner Hum Project: A Psychosocial Programme for Children — Building Emotional Resilience during the Pandemic in Malaysia" by Quek Sue Yian and Madeleine Yong.
As we build our knowledge of particular current topics that can be supported through literature, seeking international resources becomes critical given the need to enlarge our understandings around issues such as identity, gender, LGBTQ+, multimodal engagements and the power of story. The examples given here hold potential as do past issues of Bookbird with themes that provide intricate details for the tapestry of global literature.
What articles might you have read in Bookbird and found useful to your work in children's literature? What books did these articles lead to that became important to your teaching and scholarship?
WOW Currents is a space to talk about forward-thinking trends in global children's and adolescent literature and how we use that literature with students. "Currents" is a play on words for trends and timeliness and the way we talk about social media. We encourage you to participate by leaving comments and sharing this post with your peers. To view our complete offerings of WOW Currents, please visit its archival stream.
array(12) {
  ["_edit_lock"]=>
  array(1) {
    [0]=>
    string(12) "1655319229:2"
  }
  ["_edit_last"]=>
  array(1) {
    [0]=>
    string(1) "2"
  }
  ["_thumbnail_id"]=>
  array(1) {
    [0]=>
    string(5) "37464"
  }
  ["_yoast_wpseo_opengraph-image"]=>
  array(1) {
    [0]=>
    string(82) "https://wowlit.org/wp-content/media/Bookbird-Cover-Exploring-Malaysian-Culture.jpg"
  }
  ["_yoast_wpseo_opengraph-image-id"]=>
  array(1) {
    [0]=>
    string(5) "42703"
  }
  ["_yoast_wpseo_twitter-image"]=>
  array(1) {
    [0]=>
    string(82) "https://wowlit.org/wp-content/media/Bookbird-Cover-Exploring-Malaysian-Culture.jpg"
  }
  ["_yoast_wpseo_twitter-image-id"]=>
  array(1) {
    [0]=>
    string(5) "42703"
  }
  ["_yoast_wpseo_focuskw"]=>
  array(1) {
    [0]=>
    string(8) "Bookbird"
  }
  ["_yoast_wpseo_metadesc"]=>
  array(1) {
    [0]=>
    string(151) "What Bookbird articles have you found useful to your work in children's literature? What books did these articles lead to that became important to you?"
  }
  ["_yoast_wpseo_linkdex"]=>
  array(1) {
    [0]=>
    string(2) "81"
  }
  ["_yoast_wpseo_content_score"]=>
  array(1) {
    [0]=>
    string(2) "30"
  }
  ["_yoast_wpseo_primary_category"]=>
  array(1) {
    [0]=>
    string(4) "3388"
  }
}