By Rebecca Ballenger, Associate Director, Worlds of Words Center
Wilson Ong's last name was Wong until the fourth grade when his father revealed he used a false name to immigrate to the U.S. as a "paper son." His father's story isn't that different from Lee's story in the picturebook illustrated by Wilson, Paper Son: Lee's Journey to America. Each of Wilson's original oil illustrations for this book were purchased by Mary J. Wong, also the child of a paper son, and donated to the Worlds of Words Center where they are now on exhibit.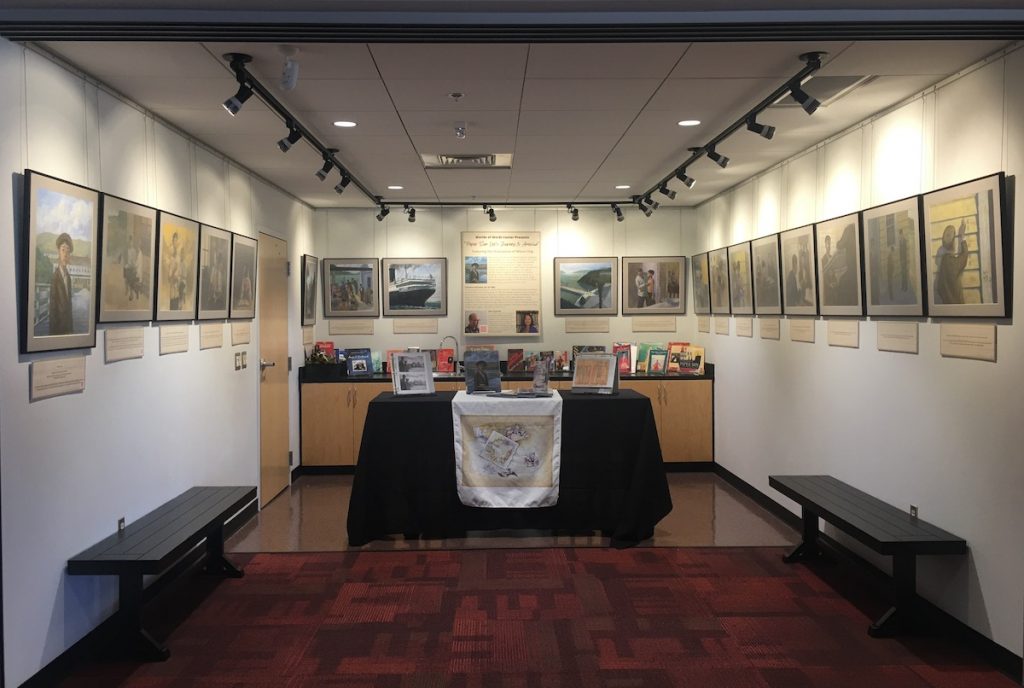 "Exhibiting the paintings for an entire book provides viewers with the rare opportunity to see the book unfold visually before them as they walk through the exhibit," says Kathy Short, Professor of Teaching, Learning and Sociocultural Studies and Director of the WOW Center. "They can also compare the illustrations in the book to the originals to understand the changes that occur through the publication process." This exhibit tells multiple stories that unfold in ways that lead to additional contemplation.
The Chinese Exclusion Act of 1882 made it almost impossible for Chinese people, like the fathers of Mary and Wilson, hoping for a better life in the U.S. to immigrate. A 1906 earthquake and fire in San Francisco destroyed birth records, opening an opportunity to create slots on paper to help immigrants claim citizenship. These slots allowed Chinese children to come to the U.S. as a "paper son" or, less frequently, a "paper daughter." Chinese families bought papers from U.S. citizens stating they were related.
Paper Son: Lee's Journey to America, set in 1926, tells the story of 12-year-old Lee who must leave his grandparents' village in Southern China to immigrate to the U.S. He won't travel as himself, but as a "paper son" with a false identity as the son of a Chinese American citizen. The exhibition includes copies of Mary's father's coaching book, Wilson's thumbnail sketches and color studies, three hands-on activities, and fiction and nonfiction books around Chinese immigration to the U.S. in addition to the 21 oil paintings from the book.
"Viewing these additional resources provides insights into the creative process of illustrating and a better understanding of the research behind an illustration. These resources invite viewers to explore the historical story of Chinese exclusion and immigration. It is especially exciting that we have a coaching book since these were usually thrown overboard as ships entered U.S. waters," says Short.
The WOW Center originally displayed Worlds of Words Center Presents – Paper Son: Lee's Journey to America for the public Fall 2022 and it's back for Summer 2023. More information about Wilson Ong, including images of his thumbnail sketches for Paper Son, can be found in our August 2022 Authors' Corner. Journey through Worlds of Words 9 a.m. to 5 p.m. Monday-Friday. For more information contact wow@arizona.edu or visit wowlit.org to schedule a fieldtrip or guided tour.
array(12) {
  ["_edit_lock"]=>
  array(1) {
    [0]=>
    string(12) "1684774360:2"
  }
  ["_edit_last"]=>
  array(1) {
    [0]=>
    string(1) "2"
  }
  ["_thumbnail_id"]=>
  array(1) {
    [0]=>
    string(5) "29982"
  }
  ["_yoast_wpseo_content_score"]=>
  array(1) {
    [0]=>
    string(2) "30"
  }
  ["_yoast_wpseo_primary_category"]=>
  array(1) {
    [0]=>
    string(4) "3549"
  }
  ["_yoast_wpseo_opengraph-image"]=>
  array(1) {
    [0]=>
    string(64) "https://wowlit.org/wp-content/media/Paper-Son-Gum-San-Medium.png"
  }
  ["_yoast_wpseo_opengraph-image-id"]=>
  array(1) {
    [0]=>
    string(5) "42972"
  }
  ["_yoast_wpseo_twitter-image"]=>
  array(1) {
    [0]=>
    string(64) "https://wowlit.org/wp-content/media/Paper-Son-Gum-San-Medium.png"
  }
  ["_yoast_wpseo_twitter-image-id"]=>
  array(1) {
    [0]=>
    string(5) "42972"
  }
  ["_yoast_wpseo_focuskw"]=>
  array(1) {
    [0]=>
    string(9) "Paper Son"
  }
  ["_yoast_wpseo_metadesc"]=>
  array(1) {
    [0]=>
    string(149) "Wilson Ong's original oil paintings for Paper Son were purchased by Mary J. Wong and donated to the Worlds of Words Center where they are on exhibit."
  }
  ["_yoast_wpseo_linkdex"]=>
  array(1) {
    [0]=>
    string(2) "79"
  }
}