The recent release of Disney's Little Mermaid theatrical trailer made a big splash, and we are here for it! In fact, let's capitalize on that interest to explore a more global lens on mermaids. In case no one noticed, WOW Dozen recently published a list on Black mermaids and sirens in children's literature by Desirée Cueto and Dorea Kleker. How about we search the WOW Center shelves to see if we can find additional global mermaid books that may also be of interest to young people inspired by Halle Bailey's portrayal of Ariel?
Fortunately, we can readily look up WOW Center holdings from the comfort of any location with internet access. Thanks to an agreement with UArizona Libraries, each book on the WOW Center shelves is cataloged and waiting for discovery. Here's how we will do that:
1. Start by visiting library.arizona.edu and choosing either research option – simple search or advanced search. For this example, I will use the simple search. A keyword search seems most logical as I'm looking for a general subject, but we could also select a title/author/call number search by clicking the upside-down blue triangle next to "keyword."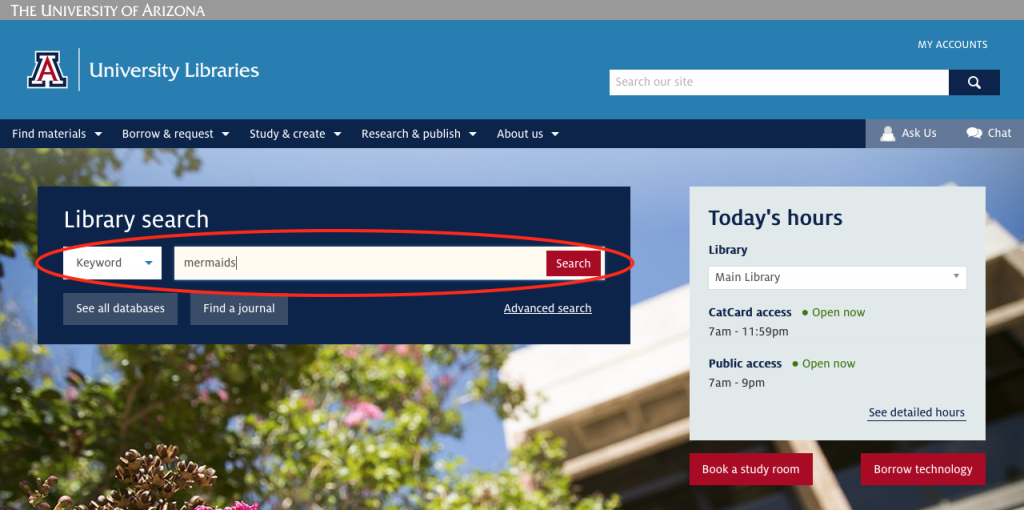 2. Next I type in "mermaids" and hit search, but I am presented with TOO MANY BOOKS (nearly 20,000), and the list isn't narrowed to global children's literature. Fortunately, I know I only want to see WOW Center holdings; hence the need to use a filter. In the left column, I select Library > Worlds of Words > Apply Filter. This narrows the field to 57 books.
These 57 books include WOW holdings spanning across our International, Oceania, UK, Caribbean, Canada, Western Europe, Mexico, Arizona, Indigenous, Africa, Southeast Asia, Latin America and Nordic sections. We also offer pop-up, fantasy, poetry, adolescent, picturebook, Wong Special Collection, science, rhymes & riddles, historical fiction and classic books.
3. Fifty-seven books still seems like too many. I start over with an advanced search. Back on the homepage, I click Advanced Search.
4. From there, I choose a "classic search" over the "everything" search. I keep the keyword search for "mermaids," but this format provides an excellent opportunity to drill down with multiple keywords or title searches, etc. I also narrow my search for books published within the last five years.
5. Then I hit the green search magnifying glass. This yields 46 results. Again, they aren't narrowed to the WOW Center holdings. As before, I return to the menu down the left side of the page to select Library > Worlds of Words > Apply Filter. That leaves me with five results. At this point, I select all of the results (check the circled box) and print a list. I could also email the list to myself (click the three dots for those options).
6. Because my query started with the WOW Dozen on Black mermaids, I'm especially interested in The Secret of the Purple Lake, so I click on that book for the full bibliographic record. Both this list and the expanded list allows researchers to do cool things with the icons, most notably, grab a proper citation by clicking on the quotation marks. Virtual patrons can even request a specific publishing style.
Most people familiar with this website will wisely wonder: Why am I looking up books in the UArizona Library database and not in the wowlit.org database? One major reason is because UArizona Library catalogs our entire collection whereas the wowlit.org database focuses on international books available and does not reflect our entire physical holdings. (For an exploration of the wowlit.org database, please visit the WOW Currents post on using the wowlit.org advanced search.)
Each of these book searches offer unique benefits. The UArizona Library search of the WOW Center holdings provides results for the physical collection and eventually WOW Center holdings that aren't books, such as our collection of original illustrations from children's books. This search also provides tracings and other traditional bibliographic information. The wowlit.org search provides more support for the types of information teachers would want such as themes. Additionally, there is generally more conversation around the books in the wowlit.org database. In time, each of the wowlit.org entries will include links to our reviews, recommendations, discussions and booklists relevant to those books.
For now, I plan to explore one additional book beyond the WOW Dozen on Black mermaids and sirens and movie trailer that sparked my search for this post, resulting in a WOW baker's dozen. To be honest, my TBR can't handle much more.
WOW Currents is a space to talk about forward-thinking trends in global children's and adolescent literature and how we use that literature with students. "Currents" is a play on words for trends and timeliness and the way we talk about social media. We encourage you to participate by leaving comments and sharing this post with your peers. To view our complete offerings of WOW Currents, please visit its archival stream.
array(12) {
  ["_edit_lock"]=>
  array(1) {
    [0]=>
    string(12) "1663178447:2"
  }
  ["_edit_last"]=>
  array(1) {
    [0]=>
    string(1) "2"
  }
  ["_yoast_wpseo_content_score"]=>
  array(1) {
    [0]=>
    string(2) "30"
  }
  ["_yoast_wpseo_primary_category"]=>
  array(1) {
    [0]=>
    string(4) "3388"
  }
  ["_thumbnail_id"]=>
  array(1) {
    [0]=>
    string(5) "37464"
  }
  ["_yoast_wpseo_opengraph-image"]=>
  array(1) {
    [0]=>
    string(76) "https://wowlit.org/wp-content/media/Secret-of-the-Purple-Lake-Yaba-Badoe.jpg"
  }
  ["_yoast_wpseo_opengraph-image-id"]=>
  array(1) {
    [0]=>
    string(5) "43099"
  }
  ["_yoast_wpseo_twitter-image"]=>
  array(1) {
    [0]=>
    string(76) "https://wowlit.org/wp-content/media/Secret-of-the-Purple-Lake-Yaba-Badoe.jpg"
  }
  ["_yoast_wpseo_twitter-image-id"]=>
  array(1) {
    [0]=>
    string(5) "43099"
  }
  ["_yoast_wpseo_focuskw"]=>
  array(1) {
    [0]=>
    string(24) "UArizona Library Catalog"
  }
  ["_yoast_wpseo_metadesc"]=>
  array(1) {
    [0]=>
    string(136) "Rebecca provides easy, step-by-step instructions on using the UArizona Library Catalog to locate holdings in the Worlds of Words Center."
  }
  ["_yoast_wpseo_linkdex"]=>
  array(1) {
    [0]=>
    string(2) "80"
  }
}