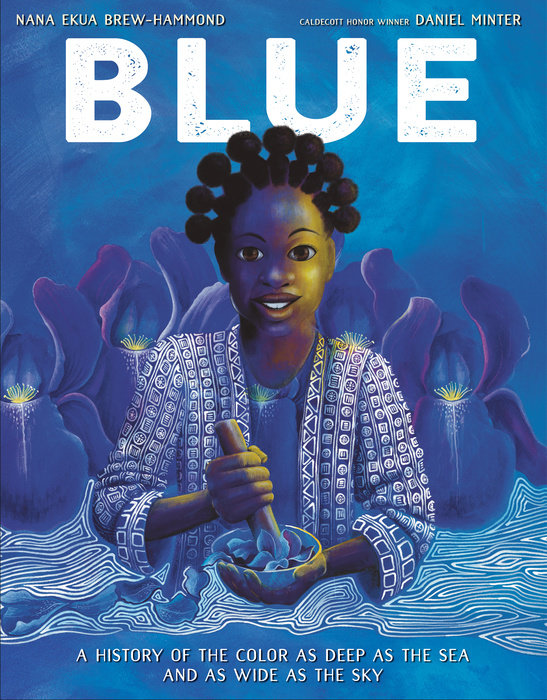 Blue by Nana Ekua Brew-Hammond with illustrations by Daniel Minter is an informative and unusual nonfiction book. The beautiful illustrations extend the text that describes varied aspects of the color blue; the complicated history, impact on art, science and much more.
That history started way back in time. "As early as 4500 BC, diggers found blue rocks called lapis lazuli in mines deep below Afghanistan's Sare-e-Sang valley." Early sources of the color came from crushed rocks and "in the belly of a certain shell fish." Later, dyers produced blue from the indigo plants. "In parts of Africa, some merchants used strips of indigo cloth to buy people, and sell them into slavery. … In this evil side of the trade for blue, landowners around the world abused or enslaved countless people just so they could grow more indigo." In 1905, scientist, Adolf von Baeyer, won the Nobel Prize for "creating a chemical blue." He made that achievement after forty years of trying.
Brew-Hammond also traces the ways cultures around the world consider the color, holy. She describes how, for others, blue "was more than a color. It was a feeling like feeling blue when we're sad. It's even a style of music called the blues. Also, since blue was once the color of royalty, it "could be why, around the world, blue ribbons are pinned for first prize."
The author elegantly composes the text which is echoed and extended in Minter's illustrations. For example, the first page of text reads, "the color blue is all around us." The illustration on that page shows three children floating in a huge blue sky. The last page bookends that first page with (blue is) "a symbol of possibility, as vast and deep as the bluest sea, and as wide open and high as the bluest sky." Again, the three children from the first page are shown floating in the immense blue sky.
Minter created the illustrations using layers of acrylic wash on heavy watercolor paper giving his paintings depth and texture. He made a significant choice by depicting all the people, except one, as Black, unlike most information books, in which the white race predominates. Check out Minter's Caldecott Honor title, Going Down Home with Daddy, and another book illustrated by him, The Women Who Caught the Babies: A Story of African American Midwives by Eloise Greenfield to further savor his impressive talents. In the Greenfield book he also uses blue effectively.
Be sure to check out the extensive back matter, an Author's Note, "Blue Facts and Selected Sources" for more information. Finally, I recommend listening to an interview on NPR with both the author and illustrator. -Recommended by: Marilyn Carpenter, Professor Emeritus Eastern Washington University.
Title: Blue
Author: Nana Ekua Brew-Hammond
Illustrator: Daniel Minter
ISBN: 9781984894366
Publisher: Knopf Books for Young Readers
PubDate: February 15, 2022
Each month a committee of Worlds of Words advisors recommends a book published within the last year. Our hope is to spark conversations on our website and on social media about the book that expand global understandings and perceptions. Please join us by leaving a comment. You can also share your thoughts with us by using the hashtag #WOWRecommends on social media. See our full list of WOW Recommends in the archives.
array(12) {
  ["_edit_lock"]=>
  array(1) {
    [0]=>
    string(12) "1667321389:2"
  }
  ["_edit_last"]=>
  array(1) {
    [0]=>
    string(1) "2"
  }
  ["_thumbnail_id"]=>
  array(1) {
    [0]=>
    string(5) "28879"
  }
  ["_yoast_wpseo_opengraph-image"]=>
  array(1) {
    [0]=>
    string(95) "https://wowlit.org/wp-content/media/Blue-nana-ekua-brew-hammond-daniel-minter-9781984894366.jpg"
  }
  ["_yoast_wpseo_opengraph-image-id"]=>
  array(1) {
    [0]=>
    string(5) "43329"
  }
  ["_yoast_wpseo_twitter-image"]=>
  array(1) {
    [0]=>
    string(95) "https://wowlit.org/wp-content/media/Blue-nana-ekua-brew-hammond-daniel-minter-9781984894366.jpg"
  }
  ["_yoast_wpseo_twitter-image-id"]=>
  array(1) {
    [0]=>
    string(5) "43329"
  }
  ["_yoast_wpseo_content_score"]=>
  array(1) {
    [0]=>
    string(2) "30"
  }
  ["_yoast_wpseo_primary_category"]=>
  array(1) {
    [0]=>
    string(4) "3405"
  }
  ["_yoast_wpseo_focuskw"]=>
  array(1) {
    [0]=>
    string(9) "Blue book"
  }
  ["_yoast_wpseo_metadesc"]=>
  array(1) {
    [0]=>
    string(145) "Blue by Nana Ekua Brew-Hammond with illustrations by Daniel Minter, describes the color blue, its complicated history and its impact on humanity."
  }
  ["_yoast_wpseo_linkdex"]=>
  array(1) {
    [0]=>
    string(2) "79"
  }
}