By Rebecca Ballenger, Associate Director, Worlds of Words Center
The rich and diverse stories of Arizona are on display in an original new exhibit of art, maps and books that showcase the history and perspectives of the state, highlighting this beautiful and complex place. For a limited time, the public can visit "Arizona Is a Story" at the Worlds of Words Center of Global Literacies and Literatures (WOW Center) in the UArizona College of Education.
"While the rest of U.S. history focuses on the original 13 east coast colonies, the place that is now Arizona experienced our own Indigenous, Spanish and Mexican histories prior to statehood," says UArizona Regents Professor Kathy Short, director of WOW and professor of Teaching, Learning and Sociocultural Studies in the College of Education. "Additionally, we live in a unique landscape that offers refuge to all manner of plants and animals."
"Arizona Is a Story" is organized around four themes, each providing a unique take on the state's history and environment. Visitors can explore the stories that Arizonans represent from the original Indigenous inhabitants through the many communities who live here today, delve into stories of the flora and fauna of Arizona, read the stories of the landscape itself, and journey through the stories told by the maps of Arizona.
"We encourage critical questions around these stories. Through these explorations, we gain deeper understandings of the many stories, including stories that have been silenced, that make up Arizona and find a new appreciation for this fascinating place," says Short.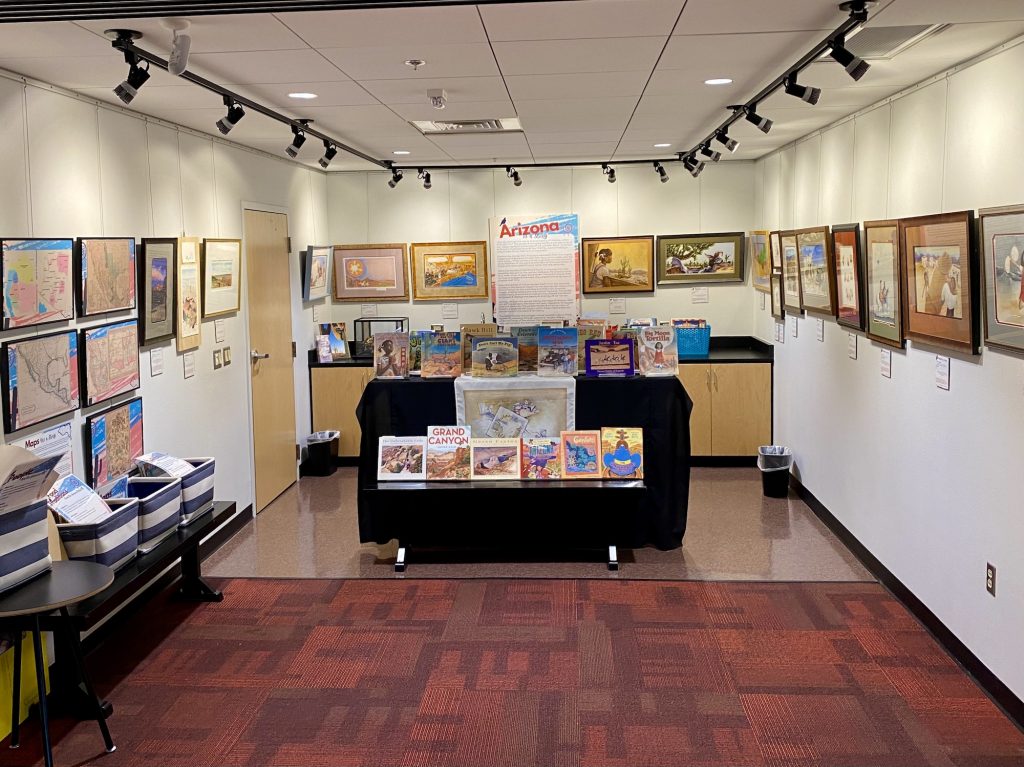 The WOW Center hosts "Arizona Is a Story" through December 2023. A reception for the event takes place at 3 p.m. on November 3 (RSVP preferred). The exhibit includes original illustrations from WOW Center collections, multiple sets of children's books and hands-on activities. The collection is free to visit and open to the public from 9 a.m. to 5 p.m. on Mondays-Fridays, and 9 a.m. to 1 p.m. on Saturdays (depending on staffing and UArizona holidays). Complete our online reservation form to schedule a free field trip or guided tour.
array(12) {
  ["_edit_lock"]=>
  array(1) {
    [0]=>
    string(12) "1693330009:2"
  }
  ["_edit_last"]=>
  array(1) {
    [0]=>
    string(1) "2"
  }
  ["_thumbnail_id"]=>
  array(1) {
    [0]=>
    string(5) "29982"
  }
  ["_yoast_wpseo_content_score"]=>
  array(1) {
    [0]=>
    string(2) "30"
  }
  ["_yoast_wpseo_focuskw"]=>
  array(1) {
    [0]=>
    string(18) "Arizona Is a Story"
  }
  ["_yoast_wpseo_metadesc"]=>
  array(1) {
    [0]=>
    string(147) "Stories of Arizona are featured in an original WOW Center exhibit of art, maps and books. "Arizona Is a Story" is on display through December 2023."
  }
  ["_yoast_wpseo_linkdex"]=>
  array(1) {
    [0]=>
    string(2) "87"
  }
  ["_yoast_wpseo_primary_category"]=>
  array(1) {
    [0]=>
    string(0) ""
  }
  ["_yoast_wpseo_opengraph-image"]=>
  array(1) {
    [0]=>
    string(72) "https://wowlit.org/wp-content/media/Arizona-Is-a-Story-Social-Square.png"
  }
  ["_yoast_wpseo_opengraph-image-id"]=>
  array(1) {
    [0]=>
    string(5) "44310"
  }
  ["_yoast_wpseo_twitter-image"]=>
  array(1) {
    [0]=>
    string(72) "https://wowlit.org/wp-content/media/Arizona-Is-a-Story-Social-Square.png"
  }
  ["_yoast_wpseo_twitter-image-id"]=>
  array(1) {
    [0]=>
    string(5) "44310"
  }
}