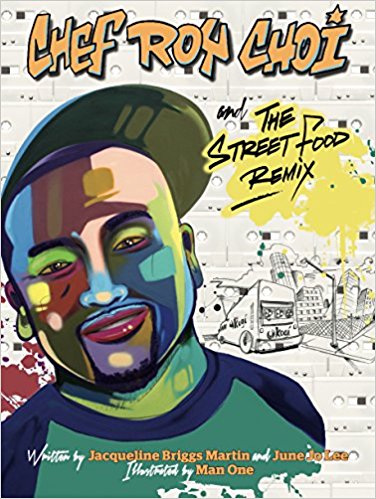 Chef Roy Choi and the Street Food Remix / El chef Roy Choi y su remix de la comida callejera
Written by Jacqueline Briggs Martin and June Jo Lee
Illustrated by Man One
Readers to Eaters Books, 2017, 32 pp (unpaged)
ISBN: 978-0983661597 (English)
ISBN: 978-1735152219 (Spanish, 2022)
This picturebook biography is a feast bursting with flavor—in the person of Roy Choi, the food he creates, and innovative illustrations that capture the diverse people of Los Angeles. Chef Roy Choi's mixing of food traditions—Korean and Mexican—serves as an acknowledgement of the strength of diversity in the community and as an invitation to cross perceived cultural barriers.
Born in Seoul, Korea, Roy Choi's family immigrated to Los Angeles when Roy was just two years old. His mom sold her homemade kimchi to friends before his family opened the Silver Garden restaurant. As he was growing up, Roy was around the kitchen and in booth #1 where the family gathered at 3:00 p.m. to make dumplings. "Family together, making food, Roy's best good time." Roy sampled all of the culinary delights L.A. had to offer, but he loved his mom's cooking the best.
After high school, Roy Choi watched a cooking show that set him on the path to attend cooking school and become a chef. At first, he worked in fancy restaurants, but learned that the environment wasn't right for him. His friend had the idea to open a taco truck and Roy had the idea of mixing Korean and Mexican cuisine. He applied "sohn-maash," which he defines as "the love and cooking talent that Korean mothers and grandmothers mix into their homemade foods." His street food remix, sold from Kogí trucks, included barbequed Korean short ribs and slaw on corn tortillas with his "awesome" sauce. Choi called it "Los Angeles on a plate."
It took perseverance and hustling with public relations for Roy Choi and his business partner to convince some of their neighbors that Korean guys could "do tacos." But in time, "Roy saw that food was like good music, bringing people together and making smiles." Choi became famous for his Kogí tacos and expanded the business to offer street food in other L.A. neighborhoods.
From the ramen noodle endpapers to Roy's face depicted with intense concentration and the joyful smiles of the diverse characters in this book, Man One adds richness to the recipe. His background as a graffiti artist shines through in the stylized street scenes that include silhouettes as well as splashes of color. Table tops covered with food surrounded by people sharing it depicted from above furthers the theme of communities coming together through sharing food.
This book is part of the "Food Heroes" series published by Readers to Eaters. Korean words and food names are explained in pull quotes on the pages where they first appear. There are also a few brief recipes presented in this way. This feature helps readers of all backgrounds understand the roots of chef Roy Choi's food truck cuisine and how he developed it to expand his customers' culinary tastes. The book also includes the authors' and illustrator's notes and biographies and a bibliography of resources.
Chef Roy Choi and the Street Food Remix has earned a great deal of recognition, including Sibert and Orbis Pictus Honor Book awards and the American Library Association and National Council for the Social Studies notable awards.
This book can be paired with picturebooks that connect food and broader aspects of culture. Told with cats and mice characters, Chato's Kitchen written by Gary Soto and illustrated by Susan Guevara (1995) focuses on food and community relationships in East L.A. Set in a Mexican-American border town, ¡Vamos! Let's Go Eat (2020), ¡Vamos! Let's Go to the Market (2019), and ¡Vamos! Let's Cross the Bridge (2021) are written and illustrated by Raúl the Third and are younger child-friendly graphic novel picturebooks that portray Mexican culture and the Spanish language. (There are six books in the World of ¡Vamos! series.) Readers may enjoy studying the art in these picturebooks alongside Man One's work. Other food-focused book pairings could include Farmer Will Allen and the Growing Table (2016) and Alice Waters and the Trip to Delicious (2014), two other books from the "Food Heroes" series written by Jacqueline Briggs Martin, as well as other titles in this WOW Review issue.
In their note, co-authors Jacqueline Briggs Martin and June Jo Lee shared their collaboration and what each of them brought to the table. Martin wrote that she connected with Choi's life choices and commitment to bringing good food to everyday people. Martin, who has written other books in this series, values the cultural knowledge and experience Lee brought to this work. As a South Korean immigrant child, Lee shared Roy Choi's feelings of being an outsider and noted that during her childhood the strong flavors of Korean food "created a fence between 'us' and 'them.'" A food ethnographer, Lee admires Choi for connecting people with each other in the streets and neighborhoods of Los Angeles.
For illustrator Man One the goal of making graffiti art is to make the city—and this book—more beautiful and colorful. On the verso of the title page, his art for the book is described in this way: "The art was created in separate layers. Most of the backgrounds were first spray painted onto a large canvas, then photographed. The characters and detailed drawings were created in pencil, then 'inked' digitally on the computer, where all parts were then assembled." In his note, Man One thanked Roy Choi for being one of the sponsors of Graffiti Spirits, his 2009 solo exhibition.
Judi Moreillon, Tucson, Arizona
© 2023 by Judi Moreillon