by Barbara Thompson-Book, Indiana University Southeast, New Albany, IN
Fellow travelers, when I was looking at books for the Americas during week two, I failed to mention books on Haiti. That oversight does not mean that there are not some wonderful books available about the island nation so on our minds right now. As teachers and parents, our children and students must certainly have questions about what they are seeing on the news, so I have researched some titles you might want to share and have looked at Web sites that support these books. I want to issue this disclaimer, I have not read some of these books. I am working from reviews published in Horn Book Guide. I used as my search criteria the score of 3 (out of 6 with 1 being highest, and realizing that Horn Book Guide rarely gives out a 1) as the cut off for acceptable books. This does not guarantee that the books are authentic, nor does it guarantee that there aren't issues of stereotyping in the books. Given the urgency of the topic, I'd rather have the titles out there than err on the side of caution.

Picture Books
Painted Dreams by Karen Williams with illustrations by Catherine Stock. Eight-year-old Ti Marie wants to paint, but her family is too poor to buy paint for her. She finds a way to get paint and the results benefit her family financially. There is an author's note about Haitian artists by Karen Williams. Rated 3 by Horn Book Guide.
Tap-Tap by Karen Williams, illustrated by Catherine Stock. Sasfi, also eight, wants to ride in a "Tap-tap", a painted truck so named because people tap on it to let the driver know to stop. She goes to the market to sell oranges. As a reward for selling the fruit, her mother gives her some change and her dream comes true. Rated 2 by Horn Book Guide.
Popo and Fifina by Arna Bontemps, Langston Hughes, and E. Simms Campbell. This is a reissue of a 1932 book in the Iona and Peter Opie Library. Set in the 1930's, it is a glimpse of rural life in Haiti. It was written by two of the United States' most prominent poets of the time. Rated 2 by Horn Book Guide.

Running the Road to ABC by Denize Lauture and Reynold Ruffins. Six children "run the road" to school to beat the sun. Every morning the children wake before dawn, eager to get to school on time. Barefoot they go, their feet remembering the way over the meadows and hills of Haiti, their home. Their journey is accompanied by nature's music, and all around them the deep blue twilight sky is brightening to a sun-swept morning. Rated 2 by Horn Book Guide.
Please Malesi: A Trickster Tale from Haiti by Amy McDonald with illustrations by Emily Lasker. Malese tricks two shoemakers into giving him a new pair of shoes. He goes on to trick rum out of several vendors in the market and a donkey ride. The people being tricked finally catch up to him. Rated 2 by Horn Book Guide.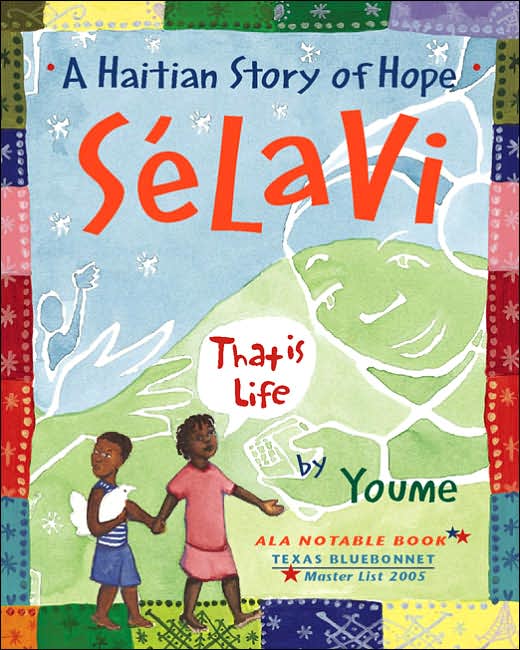 Sélavi, That is Life: A Story of Hope in Haiti by Youme Landowine. The book describes living conditions for street children in Haiti. There is an essay by Haitian American writer, Edwidge Danticat, for adults giving information you might use to help young readers with the content. Sélavi was reviewed in Volume I, Issue 2 of WOW Review. Rated 3 by Horn Book Guide.
Chapter Books
A Taste of Salt: A Story of Modern Haiti by Francis Temple. This YA story chronicles the story of Djo through Jeremie's eyes. It also tells her own story as she cares for him after he has been attacked. The book explores the injustices of Haiti prior to the raise of Jean-Bertrand Aristide in 1991. Rated 2 by Horn Book Guide.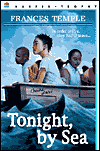 Tonight, by Sea by Francis Temple. Paulie lives with his grandmother in Haiti in 1993 after Aristide has been exiled. The military is now terrorizing the people of Haiti. Her uncle is secretly building a boat from which to escape the island, but she is unsure whether to leave. Events build to make her have to take action. Rated 2 by Horn Book Guide.
Fresh Girl by Jaira Placide. Mardi has immigrated from Haiti to Brooklyn, NY. Haunted by her last days in Haiti, she is bullied at school and isolates herself from her family. Things do not improve when her uncle, whom she holds responsible for what happened in Haiti, arrives to stay with the family. Rated 2 by Horn Book Guide.
Anacaona: Golden Flower by Edwidge Danticat. This book is a part of Scholastic Royal Diaries series. Anacaona, a future Taino chief, records her daily activities. Set in Haiti in 1490, the diary foretells what is going to happen to the island when Europeans come looking for treasure. Rated 3 by Horn Book Guide.
Behind the Mountains by Edwidge Danticat. This YA novel begins in Haiti with Celiane and her mother nearly being killed in bombings in Port au Prince during election time. The events in Haiti open her eyes to what is happening in her country. Her family then moves to Brooklyn to join her father. The reader is taken along on a journey of adjustment and acceptance as she begins her new life in a new country. Rated 2 in Horn Book Guide.
Informational Texts
Haiti by Roseline Ng Cheong-Lum and Leslie Jermyn. Part of the Cultures of the World series. It's a 1994 book, so it may not be the most current, but Horn Book Guide liked its bright pictures and clear text. Rated 3 by Horn Book Guide. (There is an updated version-2005-available from various on-line sources, but Horn Book Guide did not review it, however Booklist states that "students will learn about the background of the people, their recent political turmoil, and anticipation of Aristide's return to power. Especially interesting here is the discussion of the various ethnic and language influences, as well as the important role of voodoo. The ingenuity and creativity of the Haitian people as a positive factor in this struggling country are rightfully credited.")
Crisis in Haiti by Meish Goldish. This is part of the Headliners Series. It has black and white photographs and weaves history into the current crisis. Horn Book Guide felt the coverage was balanced. This book appears to be focused on the Aristide issue. Rate 3 by Horn Book Guide.
Web sites for Information on Haiti
The Miss Rumphius Effect is "The blog of a teacher educator discussing poetry, children's literature and issues related to teaching children and their future teachers." The author has compiled a list of books on Earthquakes, but also links to Mitali Perkin's Fire Escape post briefly listing books on Haiti (all of which I covered above). The Web site author has done all the footwork on books about earthquakes and includes several excellent Web sites on Earthquakes, so I won't repeat her work. Thanks to Rebecca (WOW Programs Coordinator) for hooking me up!
Unplug Your Kids has some great ideas for child centered fund raising for Haiti.
The New York Times interactive site will give your students a before and after the earthquake view of various landmarks in Haiti. Just drag the bar across the image and it moves between images taken in September 2008 and January 16, 2010. It is on satellite so there aren't gruesome images of bodies viewable, but students will be able to clearly see the effects of the earthquake.
For basic information on Haiti, National Geographic Kids has straight-forward facts. There is also a link at the bottom to news about Haiti. Clicking on that will take you to the National Geographic Kids blog. They have current postings and pictures which are child-friendly.
For those interested in exploring the cuisine of Haiti, What's 4 Eats has a variety of recipes and menus. It is a commercial site, so there are ads, but the recipes in some cases have yummy-looking pictures.
Earthy Family has a variety of information on Haiti. It apparently hasn't been updated since the earthquake because under current issue the site discusses human rights, and poverty, with no mention of the current natural disaster. It does explore Haitian culture (food, celebrations, history) so it's a good place to start if you know very little about Haiti.
The Haitian Embassy in Washington D.C. has an informational Web site. While there is not a space devoted to information for children, the information on the site is clearly presented, and has nice (pre-earthquake) pictures.
There are far too many organizations collection funds for the Haitian people to list here. My suggestion is to work with whatever local organization is raising donations in your area. For those of us interested in children's literature and books for children and young adults IBBY (International Board on Books for Young People) has a partnership with the Haitian chapter. Check the IBBY Web site for additional information on and ways to give to IBBY's Children in Crisis Fund.
Journey through Worlds of Words during our open reading hours: Monday-Friday, 9 a.m. to 5 p.m. and Saturday, 9 a.m. to 1 p.m. To view our complete offerings of WOW Currents, please visit archival stream.
array(9) {
  ["_edit_lock"]=>
  array(1) {
    [0]=>
    string(14) "1580499932:264"
  }
  ["_edit_last"]=>
  array(1) {
    [0]=>
    string(3) "264"
  }
  ["_yoast_wpseo_primary_category"]=>
  array(1) {
    [0]=>
    string(0) ""
  }
  ["_yoast_wpseo_focuskw_text_input"]=>
  array(1) {
    [0]=>
    string(29) "Windows to the World in Haiti"
  }
  ["_yoast_wpseo_focuskw"]=>
  array(1) {
    [0]=>
    string(29) "Windows to the World in Haiti"
  }
  ["_yoast_wpseo_metadesc"]=>
  array(1) {
    [0]=>
    string(152) "After taking a look back at part two of her series on books from other parts of the world, Barbara Thompson-Book retraces her steps and addresses Haiti."
  }
  ["_yoast_wpseo_linkdex"]=>
  array(1) {
    [0]=>
    string(2) "79"
  }
  ["_yoast_wpseo_content_score"]=>
  array(1) {
    [0]=>
    string(2) "30"
  }
  ["_thumbnail_id"]=>
  array(1) {
    [0]=>
    string(5) "37464"
  }
}