By Donna Bulatowicz, Montana State University Billings, MT, and Desiree W. Cueto, Western Washington University, WA with with Megan Robinson
In 1965, Nancy Larrick wrote "The All-White World of Children's Books," which called publishers to task for limited, almost non-existent representations of diverse characters. Fast-forward nearly 50 years and the same sentiment is conveyed through the hashtag, turned movement, turned non-profit, We Need Diverse Books. According to its website, We Need Diverse Books serves as a grassroots organization of children's book lovers who advocate for essential changes in the publishing industry to produce and promote literature that reflects and honors the lives of all young people. The ongoing work of readers, reviewers, authors and publishing houses connected to the movement has changed the industry in significant ways. However, there is still a long way to go before inclusivity is the industry standard. This WOW Currents post highlights newer titles that move the work forward by reflecting the lives of marginalized groups with depth and complexity. We also consider how some representations in children's books have remained stagnant and limited to heroic or stereotypical representations. In each segment, we feature the perspectives of cultural insiders: Megan Robinson, Alicen Anijo, Gavin McCormick and Ana Casillas-Sanchez, who enrolled in Desiree Cueto's Culturally Relevant Materials for Diverse Learners course at Western Washington University. Drawing on their inquiries, we examine representations of Autism Spectrum Disorder, LGBTQAI+, Islam/Muslim Religion and Depression.
Many people may be familiar with "a single story" (Adichie, 2009) about people with autism and thus not realize that autism is a spectrum. As more people are identified as having autism, deeper understandings about the special skills and strengths associated with autism have increased as well. The number of children identified with autism almost tripled from 2002 to 2016. Although almost 1 in 54 children in the United States were identified as having autism in 2016 (U.S. Department of Health and Human Services, 2020), representation in books, movies and other media is lacking. Even when representation occurs, it may be stereotypical. Therefore, authentic representation of a multitude of individuals with autism is essential. Books written by and about people with autism increase authentic representation of the diversities within the spectrum. With so many young people in our society who have autism, the time has come for the industry to expand authorship and character representation to be more inclusive.

We (Donna and Desiree) were fortunate to receive advanced copies of Sarah Kapit's, Get a Grip, Vivy Cohen!, a newly released novel written by an author who has autism and featuring a character who has autism.
I (Donna) was excited to read this book because it's one of the few #ownvoices books I've read with a character who has autism. The epistolary format of the book also intrigued me, and I read it in one sitting.
Vivy Cohen wants to play baseball, not softball; after all, a knuckleball is easier to throw with a baseball. Plus, her favorite baseball player, Vincent (VJ) Capello, is well known for throwing knuckleballs, and he's the one who showed Vivy how to hold a knuckleball. She's been practicing ever since. One day when she and her older brother are practicing in the park, a baseball coach comes over to watch Vivy pitch. He is impressed with her and offers her a place on his baseball team. The coach and some of the players are welcoming and accepting, especially the catcher. Unfortunately, some other players—including the coach's son—bully Vivy.
In addition to this book, I (Desiree) was excited to discover Loop, Pixar's first movie short, starring a nonverbal autistic character, Renee. The story takes place at canoe camp and the key scenes involve Renee's interactions with Marcus, an African American boy. The two are sent out on the lake together where they face some challenges. Marcus's initial efforts to support Renee go all wrong. But, she finds ways to communicate with him, and he slowly begins to understand. I won't spoil the ending. It's a must-watch and though the short film is only available on Disney+, you can read more about the film on Wikipedia.
These are two of the most recent depictions of people with autism and the characters in each differ from each other and challenge the "single story." There are other media representations that do the same, as well as some that depict stereotypes. We were fortunate to be able to write this part of the article with Megan Robinson, whose 15-year-old son, Gavin, was diagnosed with autism at age 11. Megan notes, "Upon looking at children's literature and other media, I realized I never quite saw Gavin in any of them." Regarding her inquiry project, she says, "I read many books sometimes multiple times, and evaluated them with my son to get his input."
Megan and Gavin's perspectives on each book shed light on the limited representation of people with autism in children's literature. The six books that Megan and Gavin read and discussed included a variety of depictions of people with autism, and Megan noted that three of the books are written by insiders. Gavin made personal connections with characters in some of the books. For example, he showed his mom a picture in one of the texts and noted that he had similar feelings as the character in that picture. However, there were other books that Gavin felt were inaccurate and/or stereotypical. We have opted to share two of Megan's six reviews.
A Friend for Henry by Jenn Baily
Gavin's Take: Gavin did not like that this book never clearly addressed that Henry has autism.
Megan's Take: I really like this book because it shows that kids with autism want and can sustain friendships. I agree with Gavin that readers should know that Henry has autism and I think this could be done by discussing it.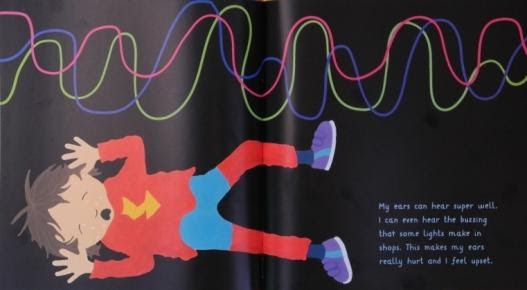 Isaac and His Amazing Asperger Superpowers! by Melanie Walsh
Gavin's Take: He showed me an illustration in the book and said he relates to it and several other aspects in the book such as: needing to fidget, sometimes not knowing what is appropriate, and taking things too literally.
Megan's Take: For Gavin, there are some truths and some things that don't apply. For instance, he is very social and doesn't have any problems looking people in the eye.
In Megan's final reflection, she communicates how important it is for educators to realize how different autism looks in people, and how sometimes books won't show them a mirror image of themselves, even though they portray them with quite a bit of accuracy. This is important because autism is so complex and varies so much from person to person. It's important that students are exposed to a wide variety of books with characters with autism, and that teachers are having discussions about the books with students.
Adichie, C.N. (2009, July). The danger of a single story. TED Talk.

U.S. Department of Health and Human Services (2020, March 26). Key findings from the ADDM network: A snapshot of autism spectrum disorder in 2016. National Center on Birth Defects and Developmental Disabilities, Centers for Disease Control and Prevention.
https://www.cdc.gov/ncbddd/autism/addm-community-report/key-findings.html
Children's Book References:
Baily, J. (2019). A Friend for Henry. San Francisco, CA: Chronicle Books LLC.
Kapit, S. (2020). Get a grip, Vivy Cohen! New York, NY: Dial Books for Young Readers.
Walsh, M. (2016). Isaac and His Amazing Asperger Superpowers! Somerville, MA: Candlewick Press.
Journey through Worlds of Words during our open reading hours: Monday-Friday, 9 a.m. to 5 p.m. and Saturday, 9 a.m. to 1 p.m. To view our complete offerings of WOW Currents, please visit its archival stream.
array(15) {
  ["_edit_lock"]=>
  array(1) {
    [0]=>
    string(14) "1587160917:264"
  }
  ["_edit_last"]=>
  array(1) {
    [0]=>
    string(3) "264"
  }
  ["_yoast_wpseo_content_score"]=>
  array(1) {
    [0]=>
    string(2) "30"
  }
  ["_oembed_e8d13e594b31fc9cf190655db689f3f0"]=>
  array(1) {
    [0]=>
    string(218) ""
  }
  ["_oembed_time_e8d13e594b31fc9cf190655db689f3f0"]=>
  array(1) {
    [0]=>
    string(10) "1587160919"
  }
  ["_yoast_wpseo_primary_category"]=>
  array(1) {
    [0]=>
    string(4) "3388"
  }
  ["_oembed_693846d8520a319c71704f100fcdb745"]=>
  array(1) {
    [0]=>
    string(11) "{{unknown}}"
  }
  ["_thumbnail_id"]=>
  array(1) {
    [0]=>
    string(5) "37464"
  }
  ["_yoast_wpseo_opengraph-image"]=>
  array(1) {
    [0]=>
    string(64) "https://wowlit.org/wp-content/media/a-friend-for-henry-cover.jpg"
  }
  ["_yoast_wpseo_opengraph-image-id"]=>
  array(1) {
    [0]=>
    string(5) "38965"
  }
  ["_yoast_wpseo_twitter-image"]=>
  array(1) {
    [0]=>
    string(61) "https://wowlit.org/wp-content/media/get-a-grip-vivy-cohen.jpg"
  }
  ["_yoast_wpseo_twitter-image-id"]=>
  array(1) {
    [0]=>
    string(5) "38960"
  }
  ["_yoast_wpseo_focuskw"]=>
  array(1) {
    [0]=>
    string(48) "Fictional Depictions of Autism Spectrum Disorder"
  }
  ["_yoast_wpseo_metadesc"]=>
  array(1) {
    [0]=>
    string(138) "This month Desiree Cueto and Megan Robinson discuss fictional depictions of autism spectrum disorder and the growing inclusivity in media."
  }
  ["_yoast_wpseo_linkdex"]=>
  array(1) {
    [0]=>
    string(2) "76"
  }
}