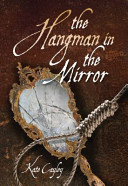 The Hangman in the Mirror
Written by Kate Cayley
Annick Press 2011, 232 pp.
ISBN 978-1554513574
Kate Cayley's choice for the title of her first YA novel, The Hangman in the Mirror, is eerily ominous of the story that is told within the pages of this book. Françoise Laurent, the protagonist, was an actual girl who lived in 18th century Montréal when it was known as New France. It was a rough place to grow up if you were poor, and Françoise's family could not have been any more destitute. Her mother was a prostitute who had been sent to New France as punishment, and her father was in the military. Both parents were irreparable alcoholics, and so any money that was made from Madame Laurent's laundry business and Monsieur Laurent's military salary was quickly spent on spirits. Françoise's life appeared to be doomed to inherit the job as washerwoman to the high-born ladies who sent their clothes, dirtied from wayward trysts, to Madame Laurent out of shame. Françoise had seen the homes of these women while delivering and picking up laundry, and she knew how much better her life could be if she were lucky enough to become a maid in one of these fine households.
Françoise finally realizes her dream after her parents die in a measles epidemic. Through her friend, Mathilde, Françoise is able to procure a letter of recommendation from her father's former army commander to present to Madame Pommereau who is in need of a maid. She fast becomes Madame Pommereau's pet, and she is treated to all of the fineries of the household. However, Françoise's downfall is her need for more, for something beautiful that she can own for herself. This leads her to steal a pair of gloves from her mistress' drawer, and when she is found out, she is sentenced to death by hanging. It is a harsh sentence, meant to serve as a warning to other domestics. As Françoise awaits her doom in a dark and damp cell, she remembers a way out of her predicament, something that she had heard from Madame Pommereau. It was based on an old tradition that held that if a woman could find a hangman to marry her, she might be let out of her death sentence. When Françoise realizes that a boy she had met in the marketplace is in the cell next to hers for wounding a man in a duel, she manipulates him with talk of love and appeals to his sympathy for her through a small hole in the cell walls. Jean Corolère agrees to marry her and to become a hangman when he is released from his short sentence.
Little is known of the real Françoise and Jean. There is a brief biography of Corolère in the Dictionary of Canadian Biography (2005, University of Toronto Press) that Cayley used as a major source. Corolère reluctantly agreed to become a hangman and marry Françoise in 1751, but no record of either one of them exists after 1752. Readers will be inclined to hope that they lived happily ever after because Cayley's interpretation of their story is so riveting.
Kate Cayley is an author and playwright who brings her theatrical talent into her writing. According to her Facebook page, she is the writer in residence at the Tarragon Theatre in Toronto. The Hangman in the Mirror began as a play that was produced at the Stranger Theatre which Cayley co-founded. Cayley states in her Facebook biography that "as the play developed, so did the book, until the story took on a fictional form quite different from the dramatic one. In the end, the voice of the heroine became so demanding that the book seemed to be writing itself." The voice of Françoise in the book certainly is strong and commanding, painting a graphic picture of one woman's struggle to survive in the face of poverty and prejudice. Cayley's portrayal of 18th century Montréal is genuine, with a playwright's attention to detail and authenticity.
The Hangman in the Mirror won the Geoffrey Bilson Award for Historical Fiction for Young People in 2012. This award is presented annually to Canadian authors of historical fiction, and presents a prize of $5000.00 to the winner. Bilson himself wrote historical fiction for children and young adults and was a history professor at the University of Saskatchewan when he died in 1987. The award was created in his honor in 1988. Criteria considerations are similar to the Carter G. Woodson Award in that literary quality as well as cultural authenticity are necessary components.
This book could be paired with other works of historical fiction dealing with the plight of young women who lived in poverty but fought to obtain a better life for themselves. Laurie Halse Anderson's Fever 1793 (2011) would be one of these, particularly as it deals with life in the New World in the 18th century and the challenges of surviving poverty and disease. The heroine of this story, Mattie Cook, is another strong female character who overcomes her lot and triumphs in the end.
Sue Corbin, Shaker Heights Middle School, Shaker Heights, Ohio
WOW Review, Volume VI, Issue 2 by Worlds of Words is licensed under a Creative Commons Attribution-NonCommercial-ShareAlike 4.0 International License. Based on work at https://wowlit.org/on-line-publications/review/vi-2/