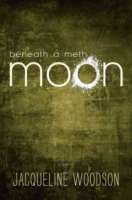 Beneath a Meth Moon: An Elegy
Written by Jacqueline Woodson
Penguin, 2012, 192 pp.
ISBN: 978-0399252501
"You told me I have to listen if I want to tell stories. Told me the best stories come from other people's stories" (p. 24).
Laurel's family has been devastated by Hurricane Katrina, killing her mother and grandmother while she, her father, and her little brother were safe at her aunt's home in Jackson. Her mother had stayed behind with Laurel's grandmother who had refused to leave her home. Laurel and the remaining members of her family stay in Jackson for two years and then move to Galilee, Iowa when her father gets a new job. Laurel almost immediately meets Kaylee and a deep friendship develops. She begins her new school, makes the cheerleading team with Kaylee, and hooks up with the star basketball player, T-Bone. It is here where Laurel's story again takes a turn for the worse.
T-Bone introduces Laurel to "moon" (meth) and she is immediately hooked. Perhaps she is particularly susceptible because of her fragile emotional state, but "moon" doesn't care; it's an equal opportunity wrecking ball, destroying anyone in its path. Kaylee tries to intervene and even T-Bone tells Laurel she is in way too deep, but Laurel is immune to their warnings. Moon takes Laurel away from her losses and gives her peace in return.
When Laurel's father discovers her Moon stash, she tells him it is Kaylee's. He goes to Kaylee's house and there he discovers it is actually Laurel's. Devastated, he returns home; but Laurel is resistant to his desperate pleas. She decides to leave home where she can do as she pleases. At first, T-Bone keeps her supplied, but as she spirals out of control and deeper into the possessive power of Moon, T-Bone cuts off her supply. She finds herself sitting on a street curb in the next town begging for money to buy more Moon.
There, she meets Moses, a painter, who paints the images of those who have died on building walls. Moses tells Laurel he and his sister lost their mother to Meth and he tries to help her in spite of his sister's warning, "You can't save that girl, Moses. You don't have magic powers" (p. 128). He tells Laurel he does not want to end up painting her image on a wall. During a rain storm, a police officer stops to help Laurel and when he realizes he knows who she is, he takes her to a rehab center and notifies her father. The day before she is to be released, Laurel runs away again, returning to the same street. This time she overdoses, but Moses finds her, calls an ambulance, and she is taken to the hospital. She enters a second rehab facility, and after 90 days clean, there is hope she will make it. "'It's a long walk away from Meth', my counselor said to me. It's a slow walk, it's a hard walk, but I put one foot in front of the other. And I keep on moving" (p. 182).
Woodson did a great deal of research in preparing for this book. Her attention to detail and the crafting of story is celebrated in the numerous awards she has won, including ALA Best Book for Young Adults, ALA Notable, Caldecott Honor, Coretta Scott King Award, Margaret A. Edwards Award for Lifetime Achievement, National Book Award Finalist, and Newbery Honor Medal. In Beneath a Meth Moon, Woodson once again shares her love of story and the well-penned word.
In addition to Woodson's ability to tell a good story, I read this new novel for another reason. I recently read Crank by Ellen Hopkins (2004) and was completely pulled into Kristina's world of meth addiction. Hopkins, whose daughter was addicted to meth, writes with a force and realism that chilled me to the bone. From almost the beginning of Kristina's addiction, while I really hoped she would beat meth, I knew she would not. Crank is more than a warning—it is a manifesto—a creed for allegiance to meth—an all or nothing seductive proposition; and unlike Beneath a Meth Moon, there is no hopeful ending. Woodson comments about this typical devastating ending to meth users' lives, "I think the hardest part was doing the research on people trying to get clean and seeing how often they ended up coming back to it [meth]….I think I started researching, trying to find the happy ending to it and finding that I needed to write my own happy endings because so many of them were not" (Woodson, J. Retrieved from http://www.youtube.com/watch?v=871qCwT7ry4.). By the end of Beneath a Meth Moon, we have hope that Laurel will beat her addiction.
The juxtaposition of Beneath a Meth Moon and Crank reveals an epidemic among many young people today who seem to live faster and more dangerously than those of the past. In Laurel's and Kristina's stories, we see two very different teenagers who have succumbed to the seductive allure of meth and nearly lose their life, a situation Woodson compares to the prevalence of heroin addiction during the time of her childhood. For those of you, who are both captivated and devastated by the stories of addiction, you might want to read two non-fiction titles: In Tweak: Growing Up on Methamphetamines, Nic Sheff (2009) tells the story of his own meth addiction and recovery; while in Beautiful Boy: A Father's Journey through his Son's Addiction, David Sheff (2009), Nic's father, tells what he and his family endured throughout Nic's addition.
T. Gail Pritchard, University of Arizona
WOW Review, Volume IV, Issue 3 by Worlds of Words is licensed under a Creative Commons Attribution-NonCommercial-ShareAlike 4.0 International License. Based on work at https://wowlit.org/on-line-publications/review/iv-3/