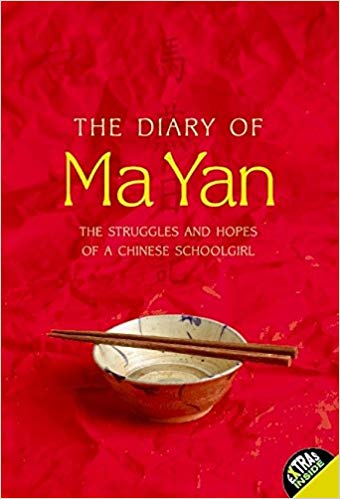 The Diary of Ma Yan: The Struggles and Hopes of a Chinese Schoolgirl
Written by Ma Yan
Edited by Pierre Haski
Photography by Wang Zheng
Published by HarperCollins, 2004, 167 pp
ISBN: 978-0060764975
The Diary of Ma Yan reveals the hopes and dreams of a 13-year-old girl in Zhangijashu as she suffers the hardships of crippling poverty and fights to continue her education. From the very first entry, Ma Yan reveals volumes about her situation. The family has one income. She has two brothers also in school. Her mother and father take Ma Yan out of school because she is a girl and because the family prioritizes the boys' education. The reader learns Ma Yan yearns for an education and, eventually, her mother recognizes this. Ma Yan's mother, although her health is poor, travels 250 miles away to work for extra income. Her mother's hard labor and poor health haunt Ma Yan. She is fully aware of the sacrifices her family makes on her behalf; nearly every entry references her parents' labors and her duty to "pay Father back…and give him and Mother the gift of a better life" (p. 64). Struggling with this burden of debt is not the only thing plaguing Ma Yan. She barely has enough food to survive during school. Her eyesight grows poor, but she cannot afford to get glasses. She and her brothers even lack the money, a mere yuan, to ride a tractor to school, so they must walk and brave the weather and bandits. Moreover, Ma Yan knows she must get top grades in her class to bring honor to her family and garner a successful job. Stark in her simplicity, Ma Yan's diary takes the reader through her trials and tribulations as she struggles with the issues of extreme poverty, starvation, dangerous journeys to and from school, pressures to succeed and dreams of creating a better life for her and her family.
There are two authors to this story. The primary author is Ma Yan in her diary entries. Interspersed between her entries are chapters from the editor, Pierre Haski, who was a journalist traveling through her region. From his chapters, Haski provides the context and background information to aid the reader in true understanding of Ma Yan's situation. For example, Haski paints a clearer picture of their poverty as he states, "To pay for the ballpoint pen she used, we later learned, she had deprived herself of food for fifteen days" (p. 5). Haski also explains details of daily life and culture that Ma Yan references but does not define, such as the kang, the large cement family bed that takes up the majority of space in their one room house. The state of their poverty is quite extreme; the "average annual income of the inhabitants of Ma Yan's village is around 400 yuan…a miserable sum compared to the Chinese average of 6,000 yuan" (p. 29).
Ma Yan's diary first appeared in a French newspaper. Reaction was immediate; readers wanted to help this girl and others like her. In response, the journalists created the Association for the Children of Ningxia, a fund to assist needy families seeking education. Haski later published this book with the corresponding information and effects of Ma Yan's diary on her future and those of others in her village. Though the book has not won awards, it has launched Ma Yan and her family to fame and, most importantly, comfort. After gut-wrenching poverty and struggle, Ma Yan and her family have enough food to eat. She and her siblings can finish school. Chinese national TV has hosted her three times, asking for details about her story, a story that tugs at the heart strings and brings to light a corner of the world rich in heritage, struggles and hopes.
Books that would pair with this text include Bronze and Sunflower by Cao Wenxuan and Meilo So (2017) and Goodbye Sarajevo: A True Story of Love, Courage and Survival by Atka Reid and Hana Schofield (2011). Other books could be Refugee by Alan Gratz (2017) or Over a Thousand Hills I Walk with You by Hanna Jansen and Elizabeth D. Crawford (2006), all of which deal with situations where children must overcome dire circumstances with courage.
Pierre Haski's career revolves around international journalism. A member of the French press, he worked on the staff of Liberation, where he first posted about Ma Yan. Not only has he traveled to China on assignment, he also has worked in South Africa and Jerusalem. He worked with others to found the Association for the Children of Ningxia, which became so successful it has helped Ma Yan and at least 250 others at the time of printing. More information regarding Pierre Haski can be found by searching his name on Wikipedia.com.
Ma Yan's diary changed her life. Her perseverance and strength won and she continued her education and supported her family with the royalties from this book. In a letter to Haski included in the end of the book, she mentions that she plans on attending a university and donating some of her proceeds from her book to help others.
Rebecca Thomason, Denton Independent School District, Denton, TX
WOW Review, Volume X, Issue 4 by Worlds of Words is licensed under a Creative Commons Attribution-NonCommercial-ShareAlike 4.0 International License.
Based on a work at http://wowlit.org/volume-x-issue-4/.