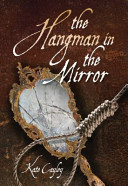 Françoise Laurent has never had an easy life. The only surviving child of a destitute washerwoman and wayward soldier, she must rely only on herself to get by. When her parents die suddenly from the smallpox ravishing New France, Françoise sees it as a chance to escape the life she thought she was trapped in.
Seizing her newfound opportunity, Françoise takes a job as an aide to the wife of a wealthy fur trader. The poverty-ridden world she knew transforms into a strange new world full of privilege and fine things — and of never having to beg for food. But Françoise's relationships with the other servants in Madame Pommereau's house are tenuous, and Madame Pommereau isn't an easy woman to work for. When Françoise is caught stealing a pair of her mistress's beautiful gloves, she faces a future even worse than she could have imagined: thrown in jail, she is sentenced to death by hanging. Once again, Françoise is left to her own devices to survive . . . Is she cunning enough to convince the prisoner in the cell beside her to become the hangman and marry her, which, by law, is the only thing that could save her life?
Featured in Volume VI, Issue 2 of WOW Review.