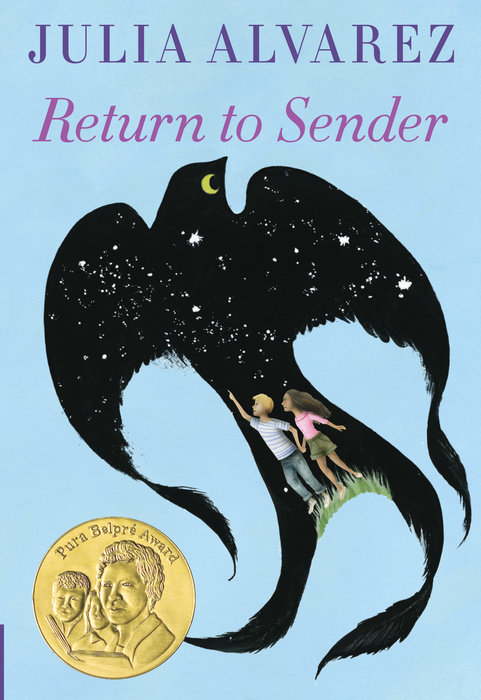 Return to Sender
Written by Julia Alvarez
Cover art by Ana Juan
Yearling, 2018, 352 pp
ISBN 978-0375851230
Devolver al Remitente (Return to Sender Spanish Edition)
Written by Julia Alvarez
Translation/Tradducion de Liliana Valenzuela
Yearling, 2010, 368 pp.
ISBN 978-0375851247
Return to Sender (2009; 2018) is a 21st century coming of age story, a fictional novel cast against the real backdrops of the modern lived experiences of migrants in the U.S. and farm families whose livelihoods are increasingly on the brink as corporations replace small family operations. Beyond the expected coming of age themes such as growing self-awareness, developing autonomy, making hard choices, and experiencing disappointment and joy, Mari and Tyler confront a divided America and must rely on their friendships to persist through small town–and big city–misunderstandings about who migrants really are and why migrants make the treacherous journey to and through the U.S.
Mari's version of this period is revealed through letters she writes, mostly to her missing mother, and later through her diary entries. Tyler's story, on the other hand, is told in third person limited narration. Through Mari and Tyler's stories, the book poignantly explores what it means to cross literal and figurative borders of country and friendship, to seek refuge in the goodness of others, and to take significant personal risks, even those that are life threatening, to carve out a way of life or to be a good friend. As Alvarez deftly explores relationships between young Mexican and American family members and new friends in rural Vermont, she includes portrayals and adventures of groups who are often silenced; the elderly, migrants, women, children, and teachers are all given space to speak and to be heard. Alvarez gives readers an intimate view into the day-to-day lives of a migrant family, affirming the love, support, and cultural practices that sustain people through hardship, loss, and new experiences. Mari's writing, for example, switches between English and Spanish and includes a small Day of the Dead/Día de los Muertos celebration as both families have recently lost a grandparent. She also discusses how Tío Felipe plays La Golandrina on his beloved guitar, Wilmita, to remind the Cruzes of home in Mexico.
Tyler also narrates cultural practice, by describing how the family gathers for Thanksgiving, children prepare to care for aging parents, and spirituality can take the shape of looking at the stars. Alvarez juxtaposes the normality of the Cruz family's lives with the treatment of immigrants and migrants living in America. The normalcy is also challenged by harrowing instances. In one of the most compelling portions of the story, Mari and Tyler work together to rescue Mari's Mamá from rogue Coyotes, or human smugglers, after which Mari and her family privately endure the story of Mamá's traumatic captivity. Mari and Tyler's stories, however uncertain at times, continue to detail parallels between young people's hopes, dreams, and fears for their families, futures, and countries, making visible how similar they truly are.
Ana Juan's (2018) cover art for Return to Sender (Alvarez, 2009) captures the youthful bond that develops between the book's protagonists, Tyler and Mari, framed in a starry silhouette of a swallow. The swallow becomes a topic in the course of the novel and serves as a catalyst for illustrating migration and the beauty and difficulty of returning home. The stars that fill the swallow silhouette are another shared interest that deepen the cross-cultural friendship between Mari and Tyler through the course of the book.
While Return to Sender has been popular with readers since it hit the shelves in 2009, its message is more urgent a decade later than ever before. As Alvarez mentions in an interview in the book, her hope is to highlight the human aspect of the stories she tells: "This is something the world of story teaches us: how an action or situation affects a specific life. At the heart of a story there is a character. At the heart of a political issue there is a person who is not very different from us" (p. 338).
Teachers wanting to use this book in their classrooms may look at themes of friendship, citizenship, immigration, or migration with companion texts like Friends from the Other Side/Amigos del otro lado (Gloria Anzaldua & Consuelo Mendez, 1995); Esperanza Rising (Pam Muñoz Ryan, 2002); Inside Out and Back Again (Thanhha Lai, 2011), Americanized: Rebel Without a Green Card (Sara Saedi, 2018); La Linea: A Novel (Ann Jaramillo, 2008); Miss Marvel Volume 1: No Normal (G. Willow Wilson & Adrian Alphona, 2014) and Undocumented: A Dominican Boy's Odyssey from a Homeless Shelter to the Ivy League (Dan-el Padilla Peralta, 2016). Poetry written by Latinx authors can be explored at the Mommy Maestra: Discoveries of a Latina Homeschooler blog (Olivera, 2012).
Julia Alvarez was born in New York City and is a renowned Dominican-American author and poet. She received the Pura Belpré Award for Return to Sender in 2010. Alvarez's publications cover a wide range of Latinx experiences through fiction and nonfiction and are written for audiences of all ages. In the author's notes and in an interview at the back of the book, Alvarez discusses her commitment to raise awareness about the Latinx population in the U.S., especially in Vermont where Return to Sender is set and where Alvarez currently lives. She also discusses the realities of Operation Return to Sender, "the dragnet operation carried out by the Department of Homeland Security's Immigration and Customs Enforcement in 2006" (p. 337).
Ana Juan is a prolific illustrator, born in Spain where she currently resides. She has lived in countries across the globe and her illustrated work includes book covers, children's books, and covers for The New Yorker Magazine. Of her home studio, she says, "But what I love in my studio is the north light it has. When you are living in a sunny city like Madrid that is quite important—I am not able to wear sunglasses while working." (Newman, 2017).
References
Newman, R. (2017, March 9). Ana Juan – Illustrator Profile: "Work hard to get your own voice. This voice will make you unique". Retrieved from https://www.ai-ap.com/publications/article/20002/ana-juan-illustrator-profile-work-hard-to-get.html
Olivera, M. (2012, April 9). "10 Latino Poets Your Children Should Know." Retrieved from http://www.mommymaestra.com/2012/04/10-latino-poets-your-children-should.html
Lillian Reeves, University of South Carolina Aiken
WOW Review, Volume XI, Issue 3 by Worlds of Words is licensed under a Creative Commons Attribution-NonCommercial-ShareAlike 4.0 International License. Based on work at https://wowlit.org/on-line-publications/review/xi-3/